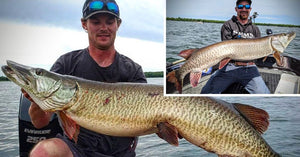 Some GIANTS Caught – Beautiful Rubber Baits – Fly Fishing Madness
Be the FIRST to see Musky Insider every week by signing up for the email version of this newsletter. It's 100% free and we will never sell your email address! Click here to sign up and never miss another issue.
---
---
Crazy Rubber "Paint Jobs"
Seems like most of the coolest musky color combos we see are painted on hard baits, which makes sense – they're easier to work with, especially compared to rubber.
That said, we've been really impressed with some of the stuff Musky Innovations has been able to do with their rubber lineup. Here's a few examples:
We're REALLY diggin' the "holo" patterns like the one on this Swimmin' Dawg:
Another one of our favorites is the "Silver Twinkie" color, which is a killer choice during the open water cisco bite here in June. You can't go wrong with the Magnum Shallow Swimmin' Dawg or the Magnum Double Dawg right now.
We'd bust out this "Hot Herring" flavored Heli Dawg for the low-light/nighttime bite. The Colorado blade gives it extra thump to call fish in and additional lift to keep the bait out of the weeds and rocks.
The bright colored head, tail and blade gives this bait a lot of profile. When all those chartreuse spots disappear at once....it's time to set the hook! 😍
These are some sweet colors, but more importantly, these bait catch 'em! Just ask Joe Sommers 💪
---
The Ugliest
 Musky
Is this the ugliest musky ever?
Sam Scott (Blue Ridge Musky) put his client Logan on a 48 inch southern musky that's as ugly as the day is long....
It's still a sweet catch though, and she's definitely not as grotesque as these "green carp" themed slippers. 😉
---
Fly Fishing Action GIFs
Hate to admit it, but traditional musky fishin' tactics get the lion's share of our attention in this newsletter. We'll getcha some more fly content this summer, but in the meantime, here's some sweet fly-only action GIFs for your viewing pleasure!
We could probably watch this one from Shoreline Anglers 100 times – lovin' the super slick back-side musky sneak attack.
You can't beat the attitude from this Minnesota 'skie as it T-bones a white & orange fly, courtesy of MN guide Luke Swanson.
Not a musky, but this slow-mo pike strike was too saucy not to share:
---
Summer on the Lake
Sorry if this offends anyone, but we couldn't help but laugh at this quote from Steven Paul on his nighttime musky article, talkin' about the up-tick in recreational boating this time of year:
"Morons on jet skis, pontoons loaded with scantily clad geriatrics and pleasure boats with screaming children in tow are just a taste of the horrors that await."
There's nothing wrong with havin' fun on the lake, but I think we've all had our fair share of run-ins with over-zealous jet skiers on an otherwise beautiful Saturday on the lake 😂
We're cool with this guy though.....
Anyway.... check out Stephen's article if you're looking for some nightshift musky tips, including when and how he uses these old artifacts:
---
QUICK HITTERS:
– MN Metro Youth State Tourney, June 19-28 (link)
– Big musky swimming w/ head out of water (video)
– 3 fish in Northern Wisconsin w/ Todays Angler (video)
– Bucher on early season muskies (video)
– 52.5 incher caught on Fox River (video)
– New Mexico tiger musky fishing (video)
– Boatside walleye strike....on a musky lure (video)
---
THIS WEEK'S 

LUNAR TIMES:
(Times based on Minneapolis)
---

---
THIS WEEK'S MONSTER MUSKIES:
Remember when we talked about "pink days" a couple weeks back?
Well, this 55.5 x 25 inch Green Bay super tanker came to play on one of 'em – and Tyler Herman capped off the experience with the picture perfect release shot!
Jace Loge didn't waste any time putting a pot-bellied Minnesota porker in the boat! This BIG gal thwacked his MuskyFrenzy Stagger bucktail on the 8. 🔥
Who says you NEED to downsize on opener? This 53-and-a-quarter drilled Joseph Biebert's double 10's on opening weekend in not-so-mini-sota.
Congrats to Steven Warner bustin' his new personal best, a 53 inch fat bellied Pennsylvania mega monster! #sumo
Wanna be featured on Musky Insider? Send in your recent trophy musky photos by replying to this email. You might just see your pic in next week's newsletter. 🤙
---
---
Want to see more from Musky Insider? Make sure to follow us on Facebook and Instagram for bonus content throughout the week!
Send all business inquiries to josh@muskyinsider.com
---