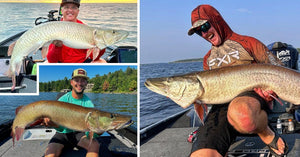 Sonar Scaring Muskies? – Vermilion PMTT Rundown – Great Underwater Shot
Be the FIRST to see Musky Insider every week by signing up for the email version of this newsletter. It's 100% free and we will never sell your email address! Click here to sign up and never miss another issue.
---
---
V is for Vermilion 🔥
Big props to these two dudes for beating a stacked field on Lake Vermilion to take home first place, a bag of $$ and a couple trophies 🏆🏆 against a stacked field of hardcore musky anglers:
Mike Gorman and Jason Stock – a couple MN musky-heads – got it done with four fish total over two days (one fish on day 1 and three on day 2).
Here's the adjustment they made to put 'em in the net during the second day:
"We had done ok pre-fishing but come tournament time the muskies left our spots. We literally targeted spots that we hadn't fished before to catch three more on day two. We decided to downsize our baits from double ten bucktails to single bladed gold eights. Then we targeted flat rock shelves that got wind blown over the last few days."
The general sentiment amongst the teams we talked to was that the pattern seemed to change-up the day of the tournament, and a lot of teams that had a pattern going during pre-fishing had that evaporate on them during the tournament. The fish were still in the same places, but what they were willing to eat and chase changed.
Bite windows on different sections of the lake ended up being very important, and there was a lot of water that was completely fruitless the entire weekend.
Here's a look at the top 10 from the event:
Not gonna lie, it's kinda cool seeing three of our Musky Insider PRO instructors in the top 10: Luke Ronnestrand (2nd), Josh Borovsky (4th), and Ty Sennett (7th).
Great 50.25 inch tourney fish right there from Ty.... ☝️
---
Sonar's Spookin' 'skies???
Sonar "scaring" fish isn't a new concept.
It's been a topic of discussion for decades (seriously) for all different species of fish.
The problem: Sonar can undoubtedly help us catch fish, which is why folks almost never actually turn it off.... 🤷‍♂️
With that in mind, here's a quick story from Josh Borovsky this past weekend at the PMTT on Lake Vermilion: 
"At one point in the middle of the day on day two of the tournament, (my partner) Troy told me to 'use the force.' I told him we're really going to use the force for real and go completely dark.
"And even though I had gone to the trouble of adding an extra mega plus side imaging transducer on the front of my boat on a pole just for this event, we did the unthinkable. Not only did I power that down, we shut off all the electronics in the boat and ran the spot blind.
"About 5 mins later we boated a 47.5 inch musky, which moved us up the leaderboard. Was it a fluke? Maybe, but it didn't feel like it considering we had given that fish several other chances to eat at more optimal times and conditions."
Here's a photo of the 47.5 incher:
More from Josh:
"So while I was already convinced the muskies were getting conditioned to livescope beams being on them, I am starting to think SI beams can be added to the list. It's hard to shut your graphs off, but if you've already used them to tell you where they are and you know that, it might be worth giving it a try. 🤷‍♂️"
Food for thought!
---
Musky Fly Fishing 101
Seems like we're seeing more and more folks fly fishing for muskies these days.
If you've never tried it and want to give it a shot, keep reading! MN guide Luke Swanson is going to share a quick 101 on how you should gear up for a day of slinging flies for 'skies.
This is some great advice if you want to add the fly rod to your arsenal, but don't know where to start.
Let's start with the ideal rod/reel setup:
"The preferred rod and reel setup will depend on the size of the flies you are throwing. Fly rods use a weight (wt) system from 1-15 wt. The higher the weight, the stiffer the rod. Most musky fly rods fall into the 11-14 wt range depending on what you are throwing."
"If you want to use flies in the 6-10 inch range, I'd suggest the Sage Payload 11+. If you're looking to throw bigger flies in the 10-18" range, the Thorne Bro's Musky Fly Rod is the one to go with. Musky fly reels are super simple. Most of the time you don't use the reel to fight the fish. A Sage Spectrum C reel is a good one to use."
What about line & leaders?
"Fly lines are gauged in grain weights. On both of the rods I recommended, I like to run a 500 grain line. The construction of your flies will determine whether you want to use floating or sinking line. If you are running topwater or a fly with a lot of synthetic materials, you'll want to use floating line. Most of the lines I run are sinking lines, which help me get buoyant flies down deeper in the water.
"The best leader combination I've found is starting with a perfect loop at the end of the fly line, followed by 4 feet of 60 pound fluorocarbon, and a double uni knot to 15 inches of 65 pound 7x7 wire. Use a figure 8 knot to add a #5 Stay-Lok snap to the end. This combination will last a few fish and give you the ability to change flies quickly when there's a hot fish ready to bite."
Now, what about the flies themselves?
"For flies I like building articulated flies in the 12-18" range out deer hair, feathers, flash, and a few different synthetic materials. Building flies with a large profile that push a lot of water is key. The Pig Sticker is a perfect example of a fly that has a big profile, glides side-to-side, and is simple to tie."
Here's a quick video of Luke demonstrating how to tie a Pig Sticker:
It's tough to cover EVERYTHING you need to know to fly fish for muskies in one newsletter, but this should get you started on the gear side of things.
Special thanks to Luke Swanson on sharing the info with us! 👍
---
This Week's Mashup:
Mashup time!
#1 – Saw this posted on FB by Troy Dechant – super cool! Can't really tell by lookin' at the picture, but this crazy piece of musky art is 50 inches long:
#2 – Hard to believe that summer is almost totally spent. Geez! But that also means the Frank Schneider memorial tourney is a very short ways away. It's one of our absolute favorite events to follow/cover ever year. 🔥
#3 – Check out this Side Imaging screen-grab sent in by Shawn Waidelich featurin' a clean double musky sighting #doubletrouble
#4 – Can anyone else relate to this meme....?? 😅
---
QUICK HITTERS:
– Doug Wegner explains his Aqua Traction boat setup (video)
– August musky fishing in Minnesota w/ Todays Angler (video)
– 3 Late Summer/Early Fall musky baits w/ TRO (video)
– Vermilion PMTT talk w/ Musky Road Rules (video)
– Cold front MN musky fishing w/ Ben Stone (video)
---
---
THIS WEEK'S

 MONSTER MUSKIES:
Feast your eyes on this gorgeous 54 inch BRUISER caught by Motei Demers fishin' with his good buddy Ian Waterer:
Congrats to Brandon Lilly on poppin' this LSC stud of 'skie while fishing the Bondy Musky Slam tournament with Seth Thompson and Jason Plant. This big gal munched a Red October tube.
Lovin' the colors on this Canadian tanker from Zackary Iverson 🔥
Wanna be featured in Musky Insider? Send in your recent trophy musky photos by replying to this email. You might just see your pic in next week's newsletter. 🤙
---
---
Want to see more from Musky Insider? Make sure to follow us on Facebook and Instagram for bonus content throughout the week!
Send all business inquiries to josh@muskyinsider.com
---