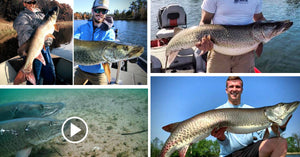 Spawning Musky Vid (UNREAL) – Spring Tips – BIG Muskies from Opener
---
Something NEW in the Musky World 
Welcome to the first-ever Musky Insider!

Our goal is to bring something fresh and new to the musky world. This email is a taste of what's to come in future emails:
Hardcore tips & tactics
Monster musky photos
Latest news & lures/gear you need to know about
Some (hopefully) funny fishin' memes
You'll hear from us once-per-week with ONLY the best of the best in the musky world.
Josh Borovsky (left) and Nick Lindner (right) are the guys behind the Musky Insider – along with hardcore musky heads from all across the musky range.

More to come in the months ahead. Stay tuned!
---
Crazy Underwater Spawning Footage....
Leave it to Bill Lindner to capture this insane up-close-and-personal footage of muskies "doing their deal" up in the shallows: 
Incredible footage. Not much else we can say.... 

Caught ourselves lookin' like this halfway through the video:
---
Highlights from MN Opening Weekend!
Now that opening weekend is in the rear view, let's talk Minnesota musky fishing with some recent photos and a quick report:

REPORT – Metro guys saw muskies getting their spawn on just 4 days before MN opener, but a few hot days pushed 'em into the weeds and out suspended over deeper water. Smaller acreage lakes are producing more eaters, as well as darker/stained lakes with higher water temps.

Fish are still being caught/encountered near shallow spawning areas in the northern half of the state.

Now for some pics....

Let's start with one of the first legal muskies of the season from Daniel Ellingson. This 50" torpedo drilled a bucktail on the 2nd cast of the night at 12:01 on "the Pond".  Now that's starting the season right!
(📸: @larsonrory) 
Musky head Trevor Tillett busted his personal best 'skie on opener, a 53.5-inch bruiser that ate his small homemade bucktail on the eight!  Not a bad photo for fishin' solo, too...
Next up we have 54-inches of big ole Minnesota Musky courtesy of Mike Magnuson. There's a LOT of season left and looks like Mike decided to eat his desert first this year!
Just a few dandies, but there's more where that came from. Make sure to check next week's email – we've got a MEGA Minnesota 'skie queued up that you won't wanna miss!
---
Finding Early Season Muskies
As you can see, there's been some monsters caught already this year, but obviously you're just seeing the highlight reel. There's still some killer musky sticks hunting for their first bite of 2019.

If that's you, you might wanna take a peek at these quick tips from MN guide Josh Borovsky:
"One of the most important things to consider when fishing early season muskies is water temperature.

"If you're fishing a lake with surface temperatures below the low sixties, there is a good chance the fish will be shallow and/or adjacent to spawning areas. Finding the warmest shallow water areas on the lake may mean the difference between active biting muskies and lazy ones.

"Keep in mind that shallow dark water or dark bottomed areas will heat up quicker, but you should also pay attention to wind. If there is a warming trend, the warm surface water will be blown to the windy side of the lake and is often several degrees warmer than the leeward side.

"I generally prefer smaller bucktails in this temp range and slower steady retrieves. That said, I've caught fish with surprisingly speedy retrieves in relatively cool water, so don't be afraid to experiment once you start moving some fish and have their location dialed in.
"If the main lake surface temperatures are in the the mid sixties or higher, you may also want to try trolling or casting the open water for suspended fish.

"It's hard to go wrong with Beaver XL's or big rubber when casting for "suspendos." Your big rubber arsenal should include Whaletails, Bulldawgs,Medussas, and also a variety of paddle tail baits such as Swimmin' Dawgs, Posseidons, and Shadzillas.
"If your going to get you're troll on, don't leave the ramp without some Supernatural Big Baits. Both the Headlocks and Mattlocks are money for the open water trolling bite!"

Spring Muskies + Warm Water = Success! 
---
Too good not to share....
I know it's June, but this was probably the coolest musky-related tidbit we came across all winter while we were twiddling our thumbs waiting for soft water...
I'm scratching my head trying to figure out how Josh Teigen somehow caught this nasty snap on camera. Well done!

Couldn't get this meme out of my head for some reason....
---
QUICK HITTERS:
 – 52" caught on the Fox River (video)

 – Musky guy wins BIG walleye tournament 😉 (photo)

 – GIANT musky follow/figure-8 with Doug Wegner (video)

 – Quick spring tip with Ryan McMahon (video)

 – Import tariffs could impact fishing industry? (link)

 – 18k tigers stocked in Jordanelle Reservior (UT) (link)

 – "Look at this Fish" – WARNING: Really dumb, but kinda funny... (video)
---
---
THIS WEEK'S MONSTER MUSKIES:
Mille Lacs, the mysterious land of GIANTS. This big ole jumbo jet was shocked up this spring, and word is she measured over 59 inches. 😲 
We all know confidence is key when you're chasing big fish. Well, Donnie (@dlblack07) is taking confidence to the next level, and it seems like the muskies are taking notice. 😂
Why do the bass/walleye guys always stumble into the mega-giants? Pierson (@pcstpierre23) caught this St. Lawrence #RiverMonster on a 6' 7" medium light walleye pole. You can watch the full catch on his YouTube channel, too. 👍
Props to Kristine (@midwestfishergal) on putting the pieces together and boated a serious #yakskie. Muskies are tough enough to catch already, and fishing out of a yak doesn't make it any easier!
---
Want to see more from Musky Insider? Make sure to follow us on Facebook and Instagram for bonus content throughout the week!
---