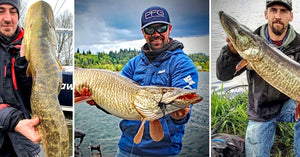 Spring Livebait Tips (Herbie) – The Best Pitch-Back Bait – Trolling Motor Question
Be the FIRST to see Musky Insider every week by signing up for the email version of this newsletter. It's 100% free and we will never sell your email address! Click here to sign up and never miss another issue.
---
---
Suckers in Spring
Sucker draggin' isn't just a late season thing!
Buckle up! We have a BUNCH of great info from Steve "Herbie" Herbeck this week. I couldn't get myself to chop anything out, so you're getting all the goodies in this email 🔥
One question that came up during the Late Fall Musky Class we hosted with Herbie was whether or not he's used livebait in spring. Spoiler alert: the answer is a resounding "YES"!
(Btw, recordings of the Late Fall Musky Class are now available to purchase if you missed the live class. Josh Borovsky and Herbie shared some insanely useful information during the 4 hour presentation.)
Okay, here's Herbie on springtime livebait fishing:
"In many parts of the country, fishing livebait for muskies is a long-standing traditional fall/cold water presentation option that greatly enhances success when used in conjunction with a casting presentation.... or vertical jigging if temps are well below freezing.
"What many don't realize is the post-spawn period can actually be as good, many times even better than late fall – especially when it comes to later springs and cold fronts with lingering water temps in the 50's to low/mid-60's range.
"If colder than normal temps or a prolonged cold front stymies/drops typical spring rising water temps and you're faced with clearer than normal water and a lack of new weed growth.... shallow movements can be very inconsistent until these conditions are reversed and a consistent rise in water temps occur. This is especially true on systems that lack a pelagic forage base that fish can move out over deep water and target, then recoup in depths that are cool and more stable than the shallows can be under these conditions.
"These are the conditions (especially if you're in a state where you can use multiple lines) where running livebait rigs slightly off the break in conjunction with your typical early season presentations up shallower can be deadly."
Now that you know which conditions are most conducive to livebaiting success, let's talk a little bit about presentation:
"This time of year, you should down-size your baits a bit and keep your rigs small. I like baits that are 11-14" long, paired with 60# wire and one 1/0 or 2/0 2x hardened wire treble. Finish it off with a #1-3 gold Colorado tail-gunner for a bit of flash."
Here's a look at Herbie's setup:
"Use a float if you're running the bait in shallow water, otherwise you can use a planer board in deeper water off the break behind you.
"The term "quick-set" really and absolutely applies here. With metabolisms on the rise and the use of generally smaller bait sizes, muskies will turn a bait much quicker than in the fall."
FYI – If you don't like tying your own sucker rigs, the closest purchasable option to Herbie's setup is Stealth's GT (Gregg Thomas) Quick Strike Rig.
Don't worry, Herbie's train hasn't left the station yet – keep reading 👇
---
More Herbie Goodies
A few more tips from Herbie that will help you put more 'skies in the boat during the first month of the musky season:
"While night fishing is generally regarded as a warm water, fishing pressure related deal, it can be the perfect strategy to help conquer frustrating fishing conditions early in the musky season, too.
"Casting large walleye-sized suspending crankbaits & jerkbaits like Livingston Jerkmaster, Husky Jerks, weighted #18 Floating Rapalas, etc. up on shallow gravel/broken rock edges, weed flats, and incoming current areas can be the ticket for nighttime musky success.
"These same areas relatively devoid of fish mid-day with the cold clear water and lack of cover find walleyes of all sizes, suckers, other forage species.... and lots of muskies that have been inactive all day, just waiting to move up and feed. They have a completely different attitude under the cover of darkness."
Another question we received following Josh & Herbie's class was if there's ever a "bad" time of year for night fishing. The short answer is "NO"!
Even though night stalking 'skies is most popular during the hot summer months, it can be a bigtime player all season long. Don't rule it out this spring!
One more Herbie tip you can try:
"Jigs with a reaper, paddletail, or lizards have always been an early season choice but with a smaller 6-8" chub or sucker can be a game-changer under the toughest of conditions. My favorite is Bait Rigs Cobra with a skirt and a small 1/0 stinger."
"Pretend you're fishing walleyes with a jig & minnow or fishing bass with a jig & pig. Fish it perpendicular to the boat, then drag & jig it behind the boat for 10'-15' at the end of each cast.
"Try to time your casts so they're happening at the same time or before other artificial retrieves are nearing the boat. If a fish follows to the boat and then turns off, a pitched back jig is one of the deadliest cast-backs there is."
Once again, make sure you're setting the hook quickly when you get a bite. Metabolisms are rising in spring and muskies will turn & swallow the bait quickly.
Special thanks to Herbie for the huge pile of info this week!
In case you haven't heard, he's guiding south of the border in Wisconsin this season. 2021 might be one of the last opportunities to fish with Herbie in WI, because I think we ALL know where he'll be once the border opens. 👉🇨🇦
---
Ugly Esox
Let's take a quick break from the hardcore musky tips to enjoy the snubbiness of these big freshwater eatin' machines....starting with this big momma from LSC guide Ian Jones (also, notice the sweet two-tone pattern on her back):
And this nighttime snubber that drilled Mitchell Engel's bait at boatside:
Let's hop across the pond quick to check out this zig-zag Euro pike – pretty sure this is what happens to the fish when you're workin' your glide bait too fast. 😂
Last up, we have one final snub-noser from northern Minnesota musky fanatic Isaiah Hahn with his client Gerra last summer:
---
Trolling Motors vs. Muskies
Saw this clip from Ethan Price featurin' a musky "attacking" a trolling motor....
....which made some interesting topics come to mind: Have YOU ever had a musky bang into the prop of your trolling motor?
Do you believe running the t-motor during your figure 8's impact catch-rate?
Would we possibly catch more muskies if we used one of these to "quiet" our prop?
It might possibly make a difference, but we've also seen muskies drill baits trolled in the prop wash less than a dozen feet behind the boat, so.... 😉
Click here and let us know your thoughts in the comments!
---
QUICK HITTERS:
– MN Metro Muskie Tournament happenin' June 12th (link)
– Info on the 2021 MN High School tourneys (link)
– New Rapala Rainsuits are 20% off at Thorne's (link)
– July musky castin' on Mille Lacs for a couple nice 'skies (video)
– Writeup on Ohio musky fishing & management (link)
– Old school Bucher catch on a minnow bait (video)
– Another throwback Eagle Lake session w/ Angling Anarchy (video)
– Fly slingin' for creek muskies (video)
---
---
THIS WEEK'S 

FEATURED MUSKIES:
BIG congrats to Justin Morris on landing his PB, a plus-sized spawned out Virginia female fishin' with down south guide Ken Trail.
Lovin' the belly rolls on this beautiful western tiger from fly slinger Keith Johnson.
Props to Josh Carver on boating landing this sweet 'skie fishin' from shore. 💪
Wanna be featured on Musky Insider? Send in your recent trophy musky photos by replying to this email. You might just see your pic in next week's newsletter. 🤙
---
---
Want to see more from Musky Insider? Make sure to follow us on Facebook and Instagram for bonus content throughout the week!
Send all business inquiries to josh@muskyinsider.com
---