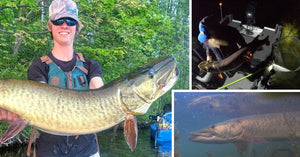 Spring Musky Tips – Biggun on a Micro Fly – 🔥 Release Shots
Be the FIRST to see Musky Insider every week by signing up for the email version of this newsletter. It's 100% free and we will never sell your email address! Click here to sign up and never miss another issue.
---
---
Let's Get 'em This Weekend
The northern WI musky season is opening RIGHT NOW!
Best of luck to everyone hitting the water to chase some 'skies. Here's a few tips that will help you score during opening weekend – let's jump right in 👇
#1 – If action is your goal, consider targeting lakes that are shallower or have darker water. These fisheries are usually further along and have muskies that are more likely to chew.
#2 – No matter where you decide to fish, finding the best early weed growth is often a recipe for success. Green stuff holds more oxygen, baitfish and 'skies!
#3 – Rivers can be an A+ option early in the season. They are often further along and you'll find more active fish.
#4 – Put some erratic baits to work to get more bites. Twitch baits, glide baits, dive-and-rise and small rubber are all great options, but don't get caught being too rhythmic. Erratic means erratic, so break up your cadence to get more bites vs. follows. Swimmin' Dawgs and small blades can shine on opening weekend, too.
#5 – Watch your temperature gauge for warmer pockets of water. Temps can vary like crazy throughout the lake, especially this time of year. The variations might be wind-driven, it might be based on cover heating up or the angle of the sun. 
Regardless, these warm pockets can hold more hungry muskies.
#6 – If you wanna put a serious plus-sized 'skie in the net, you need to fish where they live. You have a *chance* to catch a giant on many lakes, but you can severely up your odds of encountering a giant by targeting bigger water or tributaries of the Great Lakes.
You can utilize a similar arsenal of lures, but add trolling to the list of tactics that are VERY effective on big water.
We gotta give a shoutout to WI guide Steve Genson, too. He covered many of these topics in-depth this week with our Musky Insider PRO subscribers.
Best of luck on the water this weekend – stay safe and put some 'skies in the net!
---
Let 'em Go Shots
Here's a few "Let 'em go, let 'em grow" pictures that caught our eye this week:
First we got a sweet shot shared by Chaos Tackle featurin' a release from the motley crew of Matt Vavroch, Brian Skaife & Ben Stone:
Stellar clip from Cole Lauzon – featurin' the Great Lake kick! 💪
REALLY cool underwater shots from @angles_on_dangles:
Lovin' the mirror-effect on this impressive kayak 'skie from Braden Mayo:
Here's a look at Braden's big fish above-water #tanker
---
Musky Meme Parade
Here's a few musky-themed memes for your weekend enjoyment:
I feel like we're just scratchin' the surface with this list of musky nicknames....
When musky guides teach their clients proper technique....only to watch 'em forget EVERYTHING the very next cast:
😅
Anyone else find themselves in this boat this weekend??? 😂
---
This Week's Mashup:
Mashup time!
#1 – Shawn Josephson wasted no time crushin' the southern WI musky opener, putting 6 fish over 40 inches in the net (including an inland 50-incher) all on Llungen's Magnum Nutbuster Spinnerbaits.
Awesome fish and a stellar photo – props! 👊
#2 – Crazy footage from Greg Attard, wrestlin' with a big late season giant at the side of the boat 👀
#3 – Our buddies at Taps & Tackle are running a 15% off special on Swimmin' Dawgs til Sunday. Worth a look, especially if you like ultra-realistic custom colors:
#4 – How sick is the logo for David & Goliath Baits??? Love it! They also have some neat lookin' bucktails.
---
QUICK HITTERS:
– Thorne Bros Musky Opener Sale, code: MUSKY23 (link)
– Metro Muskie Tournament happenin' June 10th (link)
– 53.5 incher eats boatside w/ jyonfishingteam (video)
– Spring musky baits & locations w/ Maina (video)
– "Going vertical for metro muskies" w/ Next Bite (video)
– Top rubber bait tips w/ Rich Reinert & Burnin Eights (video)
---
---
THIS WEEK'S

 MONSTER MUSKIES:
James Lindner can't seem to stay away from the muskies. Even if he's throwing a tiny black VMC marabou hair jig for pre-spawn smallmouth bass. This Sturgeon Bay beauty went 52 inches long 🐖
Adam Mueller caught this porker pontoon trollin' in Missouri – that's not something you hear about too much in this newsletter, not gonna lie!
Really cool fly 'skie shot from Braden Miller down in Virginia 🔥
Wanna be featured in Musky Insider? Send in your recent trophy musky photos by replying to this email. You might just see your pic in next week's newsletter. 🤙
---
---
Want to see more from Musky Insider? Make sure to follow us on Facebook and Instagram for bonus content throughout the week!
Send all business inquiries to josh@muskyinsider.com
---