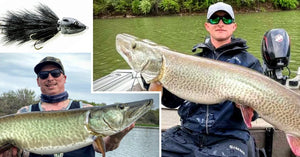 State Record Broke! – Fish Mattlocks like a Bull Dawg? – Musky Location Triggers
Be the FIRST to see Musky Insider every week by signing up for the email version of this newsletter. It's 100% free and we will never sell your email address! Click here to sign up and never miss another issue.
---
---
WV State Record!
Looks like there's a new top dog in West Virginia!
Huge congrats to guide Chase Gibson on bustin' the WV musky record with this massive Burnsville Lake bruiser:
West Virginia has a weight record AND a length record for muskies.
This big gal was 39.6 pounds (which is roughly 10 pounds short of the weight record), but was 54 inches long, which edged out the previous length record! 🚨
Best of all, she was safely released for someone else to catch (hopefully this fall)!
We reached out to Chase for s'more deets on the catch – here's the rundown:
"I was fishing some timber on Burnsville Lake. I noticed most of the crappie and bluegills were suspended 8-12ft down so I switched from a glide bait to a Musky Innovations Dyin' Dawg! 10-15 casts later my rod loaded up and she came to the surface! I knew she was 50"plus but not quite that big! She ran straight to the boat, made a run up under the boat, and almost wrapped me around a tree. Frank Porupski was ready with the net and scooped her right up!"
HUGE congrats to Chase on an unbelievable catch!
---
Seifert's Bait Picks
Just got done watchin' this seminar/Q&A Matt Seifert did for Thorne Bros:
There were a bunch of juicy nuggets throughout. Lots of talk about hot baits and lure modifications. We'll share a few highlights below:
First, Matt spills the beans on something pretty unique he's been doing:
"The 10-inch Mattlock is one of my go-to baits every year. I catch so many fish on it trolling, but last year, I was putting an 8-9 inch rubber tail on the back hook and using it like a Bull Dawg. It was amazing how well it worked. On a long cast with the middle line-tie setting, I would get the bait down to about 14-15 feet on a straight retrieve.
"I'd crank down fast right away (to get the bait to depth), then I'd slow it down and throw in some pops and twitches. It literally looked like a Pounder in the water, but it had way more movement and a better stall. That's one thing I'm going to use a lot more this year."
And here's a few bucktails Matt's been lovin' this past year:
"My favorite bait I got to play with in 2020 is the new Musky Mayhem Detonator – it was amazing last year. It has a big 13 blade (which is a Mayhem exclusive), paired with a heavy 10 blade. This bait has a heavy grind – the best I've ever felt – thanks to the steel leader crimp and the clevises.
"The sand bite was tough this past year on Leech. That said, burning high-speed bucktails like the new single-bladed Rabid Girl worked well some days, but other days I couldn't get those fish to move at all.
"I actually started fishing slower with bigger baits and I caught a lot of fish. My favorite bait for that situation was the JR4, which has four Junior blades (two on the front, two on the back) which makes the back of the bait 'walk' as you're reeling it in.
"We were slow-rolling the bucktails in just 2-4 feet of water. The Super Models would definitely work, but the JR4 just seemed to float a little better in that shallow sand."
Matt also dug into why he thinks the Baby Beaver is so stinkin' good for casting during the springtime open water bite:
"We are watching muskies eat these ciscoes on the surface. As soon as they jump up to eat the mayflies, they land back in the water and the muskies grab 'em. I truly believe the Beaver is effective in-part thanks to the splash it makes when it hits the water. Most of the bites you get are within the first three pulls or right at the boat. You need to keep the bait really high because these fish are swimming around with their backs almost out of the water.
"Black is always a staple on Vermilion, but overall it seems like black or white are my two best colors. I've caught them on walleye colors, too. I like using solid colored baits that make nice silhouettes against the sky."
And finally, we couldn't leave out the part where Matt talks about how he likes to "school" his baits when he's trollin' for 'skies:
"For the most part, I put the bait with the most aggressive action and brightest colors in the front of the pack. I believe the 10-inch Mattlock is the most wild bait that Supernatural makes, so that's one of my go-to's up front. Behind that, I might run a walleye-colored 12-inch Mattlock, and in the back, I might have a 10 or 12-inch Headlock with a rubber tail on the back hook to slow down the action of the bait. Sometimes I'll even run a 16-inch rubber tail on the Headlock and it almost kills it completely, it's just barely moving.
"When the window opens, we'll catch two or three fish on that first and second bait. But in-between those bite windows, the only bites we ever get are on those baits in the back of the pack – and a lot of times they are on the back hook. They see this bait that's barely doing anything in the back of the pack, it looks like an easy meal, and they will nip at it."
That's all we can fit here in the newsletter, so make sure to check out the full seminar for more goodies from Matt 👍
---
Following "Forage"
Toby Kvalevog (pictured above) is a multi-species guide out on Leech Lake. He'll chase just about anything that swims, but he's been bit by the musky bug. 🙌
Toby describes himself as a "late comer" to the modern musky game, but he's used his multi-species experience to help shorten the learning curve, and it's helped him put 100+ 'skies in the boat over the past couple years.
If you're new to musky fishing, but NOT new to fishing in general, I think you'll find some good tidbits in this writeup that will get your wheels turning....
Toby: "Being a multi-species angler can prove to be beneficial when it comes to targeting musky. I follow the golden rule of F+L+P = Success to locate all sport fish. Find the other sport fish and your chances of finding a musky are very good. The musky is an APEX predator and will take advantage of any food source. Bass, walleye, perch, crappies and other panfish are all fair game when it comes to an easy meal."
Now let's take a look at a few key situations where Toby has been able to take advantage of his experience with other species to find & catch 'skies: 
"The early season walleye and perch bite has proved to be a great indicator for finding post spawn muskies on Leech Lake. Each year, we encounter muskies chasing jumbo perch, walleye or crappie out of shallow weed flats or spawning areas in pencil reeds. The spots with the highest concentration of fish always seem to have a musky nearby. One of the biggest muskies in my boat ate a jig and shiner on Opening Day right in the midst of a walleye feeding frenzy."
Find the forage and you'll find the predator fish, it's a pattern that holds true for just about everything that swims in the lake!
"One day, I had multiple muskies chase our hooked walleyes while we were trolling deep water spinners over the mud in 25-30 feet of water during a mayfly hatch. I open water troll this exact location for muskies now, and it has proven to be one of the most consistent musky spots I've found in the past couple years."
One last example:
"Mid-summer weed flats begin to hold a lot of life as the water temps begin to stabilize in the mid-70 degree range. The weed beds closest to deeper water that have turns or pockets will always hold a lot of baitfish, perch and walleye this time of year. We hammer the eaters during the day out of these spots and I find myself going right back in low-light periods to chase musky. More often than not, they are there. We had a five-fish musky day last year on a 75 yard stretch like this that was full of perch and walleye."
Hopefully this helps a few of you put the pieces together this season and put a few more muskies in the boat!
Thanks to Toby Kvalevog for the writeup!
Btw, both Toby AND Matt Seifert will be instructors at this year's MN Musky School outta Agency Bay Lodge on Leech this summer. 🔥
---
Helpful Musky Vids
For those of you who are always hungry for more musky fishin' content, here's some videos that are worth checkin' out:
#1 – Whether you're a guide or the guided, there's some great advice in this discussion with the Musky Factory crew about getting the most from a guided musky trip:
#2 – There no such thing as a "perfect" musky leader for every situation. #facts
Here's some helpful tips from John Bette, the leader guru at Stealth Tackle, on how to choose the right leader for springtime musky fishing. We shared this video last year, but the information is still super useful if you're gearing up for 2021:
#3 – For those of you who didn't watch 'em live, there's a BUNCH of great videos from the Musky Odyssey on Muskies Canada's YouTube page.
It's still hard to believe they put together 16+ hours of musky-specific video content in one weekend. Seriously impressive! 💪
---
QUICK HITTERS:
– Steve Heiting's WI Northwoods radio reports coming (link)
– Spillway musky fishin' w/ Doug Wegner (video)
– Musky fishin' action in Ohio (video)
– Updates on Musky Angler Log in Ohio (link)
– Iowa Musky Mission w/ the Smith's (video)
---
---
THIS WEEK'S

 FEATURED MUSKIES:
Big props to Katelyn McStravog on boating this Pennsylvania porker! Lovin' this quote from Mike Breznicky who was there for the net scoopin':
"She was visibly shaking from the adrenaline and I even caught a glimpse of a single tear rolling out from under her glasses.
"I can't say that I've experienced that kind of emotional dump from landing a fish and I can't think of another angler who deserves this catch more."
That's what it's all about folks!
Colin Murphy stuck this green potbellied 'skie fishing in Iowa at the end of April.
How many of you knew that there were muskies in Nebraska?
That's where Andy Hamm caught this beauty!
Wanna be featured on Musky Insider? Send in your recent trophy musky photos by replying to this email. You might just see your pic in next week's newsletter. 🤙
---
---
Want to see more from Musky Insider? Make sure to follow us on Facebook and Instagram for bonus content throughout the week!
Send all business inquiries to josh@muskyinsider.com
---