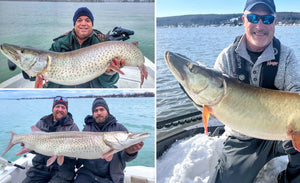 Stereotypical Late Fall Day – Handling Tips – Livebait Mishap
Be the FIRST to see Musky Insider every week by signing up for the email version of this newsletter. It's 100% free and we will never sell your email address! Click here to sign up and never miss another issue.
---
---
Holding a Musky 101
Proper musky handling is one of the keys to a healthy fishery.
''Handling'' is broad topic, but at it's very core, it starts with a good, solid hold. 
Many anglers don't use proper technique when they hoist a musky out of the net, and we also see lots of folks struggle to get a "squirrely" musky out of the net.
Here's a quick demonstration from Josh Borovsky:
Lots of stuff to consider, including finger placement, thumb placement and how you balance the fish to maximize your leverage.
Getting each of these steps correct will dramatically decrease the chances of a "yard sale" on the floor of your boat. 😬 Which is the #1 thing we are trying to avoid.
---
"Opportunistic Feeders"
We've said it a million times, but muskies are opportunistic feeders through and through.
Doesn't matter if it's injured baitfish, a walleye/bass/sunfish that's getting reeled in, or a $14+ sucker popping off your quick strike rig.
Jim Saric can vouch for that last one! 😂
Here's the strike:
From Jim: "Ever have this happen? End of the day the half-dead sucker falls off the quick-strike rig, slowly suspending below the surface…the rest is history."
Tough break!
Also maybe a testament to the importance of using a stealthy rig if you aren't getting bites. Makes you wonder how many bites you'd get dragging around a sucker with no hooks!
---
Late Fall Musky Chasin'
Raise your hand if you did some LATE fall musky fishin' this year 🙋‍♂️
This video from Luke Ronnestrand and Thorne Bros was a fun watch because it definitely had some of the key elements of a late season chase:
First and foremost, there was plenty of wind and precipitation to deal with.
All the classic stuff happened, like ice buildup on the reels:
And the trolling motor getting frozen in the down-right position:
Been there! 😅
42 degree lake water got the job done here, but another option is packing a thermos of boiling water just in case you need to melt some ice. Trust me, trolling motors aren't the only things that will freeze-up in fall.
If you've fished enough in November, you know this is just the tip of the iceberg when it comes to potential issues that can happen out there!
Sounds like this was a testing mission for Thorne Bro's new Stealth rods, though it sounds like their rain gear got the biggest workout!
That said, they did stick this pretty Minnesota blonde on a Medussa:
Believe it was caught on the "Natural Perch Chartreuse Head" color.
---
This Week's Mashup:
Mashup time!
#1 – Just a heads up: Our buddies at Llungen Lures posted a bunch of show colors on their website – a chance to grab some customs BEFORE the show season. 
They're also offering a bonus if you order baits now:
"Spend $100 and get a FREE lure of your choice! ($19.99 or less) OR Spend $150 and get a FREE lure of your choice! ($24.99 or less)"
Solid deal if you're hunting for some fresh custom colored cranks:
#2 – Pretty cool interaction with a musky attacking a fish decoy under the ice:
#3 – Sick bucktail design from Metalhead Musky Baits. It almost looks too pretty to throw in the water 🔥
#4 – Anyone else un-kidnappable?? 😂
---
QUICK HITTERS:
– More November musky fishing w/ Todays Angler (video)
– Ben Knutson's interview on Musky Road Rules (link)
– 53 incher casting on GB w/ Bob Parteka (video)
– Vertical jigging Livescope strike (video)
---
---
THIS WEEK'S

 MONSTER MUSKIES:
Gotta love those late season Great Lakes 'skies! Lots of action and the chance at some big ones like this porker from Moxon's Guide Service. Gorgeous fish!
Not the longest fish in Lake St. Clair, but this bulbous beast of a musky from Michael Collison and Ryan Jankey came in at 48 x 25.25" #sumosized
Awesome 50+ incher sent in by Blaine Davidson on Lake Chautauqua last month. Gotta love the snow piled up on the deck for added effect! 😉
Wanna be featured in Musky Insider? Send in your recent trophy musky photos by replying to this email. You might just see your pic in next week's newsletter. 🤙
---
---
Want to see more from Musky Insider? Make sure to follow us on Facebook and Instagram for bonus content throughout the week!
Send all business inquiries to josh@muskyinsider.com
---