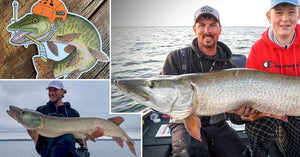 Stuff Musky Anglers Do – Bucktail Building Tips – Aggressive Strike GIF
Be the FIRST to see Musky Insider every week by signing up for the email version of this newsletter. It's 100% free and we will never sell your email address! Click here to sign up and never miss another issue.
---
---
Musky
 Anglers Only
Cool idea from Keyes Outdoors....
They asked their FB followers: "Tell me you're a musky angler without telling me you're a musky angler. Post your photo/comment below for a chance to win a free KO shirt...."
Lots of GREAT responses, here's a few of our favorites:
#1 – Bass guys like to show off their "bass thumb".
All we can say is "that's cute!"
This shot from Anthony Ashby is the aftermath of dealing with a TRUE predator:
#2 – This shot from Kyle Tokarski couldn't be more accurate....
(More from Kyle later in this newsletter....)
#3 – If you're still tryin' to figure out what's happening in this Thatcher Haggberg photo, then you've probably never done the late, LATE fall musky deal when all the bass/walleye guys have put their boats in storage for the season.
(Speaking of late fall, don't forget to check out our Late Fall Musky Tactics class with Josh Borovsky & Steve Herbeck. It's LOADED with can't-miss info that will help you find & catch 'skies from turnover until the end of the season.)
#4 – If you've ever dumped a BIG musky, you can probably relate to the emotions in this pic from Mike Conklyn:
---
Bucktail Building
Was just watchin' a video from Pete Maina showin' how to construct a homemade bucktail – here it is:
A few notes:
#1 – It was pretty entertaining watchin' Pete grab the building materials that were laying around his garage. He keeps some .051" wire just sitting on top of his refrigerator, right next to a pile of used egg cartons. 😂
#2 – He added a Livingston Sound Bullet near the hook of the bucktail. Have any of you tried that before to see if it makes a difference?
#3 – Gotta love Pistol Pete's workbench, definitely looks like a dude who keeps himself busy with different projects:
#OrganizedChaos
---
Savage Strike
I literally have ZERO backstory on this video, but how crazy is this strike:
It says on TikTok it's a musky eating a pike, but it looks more like some pike-on-pike action to me.
Super cool regardless!
---
This Week's Mashup:
Mashup time!
#1 – Love this musky-themed meme 😂
#2 – REALLY diggin' the "dipped" blades on this Double Cowgirl in Black Lightning, which is a custom Thorne Bros color.
#3 – With NHL season just startin' back up and the peak fall musky bite approaching, this sticker from Kodiak Krate seems seasonally appropriate.
#4 – Not sure how this GIF relates to musky fishin', but 1.) that lady is super CRAZY for shoving a bear and 2.) I could see some musky-heads doing this if a bear was trying to steal suckers outta their tank 😂
---
QUICK HITTERS:
– Steve Heiting inducted into the Freshwater Fishing HOF (link)
– Boatside topwater action w/ Todays Angler (video)
– Musky Battle 2021 Recap (video)
– Power Pole's new trollin' motor flying down the road? (video)
– Help ID a boat trailer thief at Mille Lacs ramp (photo)
---
---
THIS WEEK'S

 MONSTER MUSKIES:
Wow, congrats to Scotty Ellis on crackin' his new PB musky with this 55.5-inch green-headed beast from Georgian Bay.
Props to Kyle "always on em" Tokarski on putting his 13 year old client, Logan on this beautiful double-nickel! #casting
Lovin' this release shot from Cole Lauzon and his girlfriend Shaelynne. They caught this beauty on a Pink Day, too! 👀
Huge congrats to 12 year old Julian Peterson on catching this beautiful fish, sucker fishin' from shore on the Wisconsin River with Elijah Keller (pictured) and his father, Seth Helberg (📸).
Wanna be featured in Musky Insider? Send in your recent trophy musky photos by replying to this email. You might just see your pic in next week's newsletter. 🤙
---
---
Want to see more from Musky Insider? Make sure to follow us on Facebook and Instagram for bonus content throughout the week!
Send all business inquiries to josh@muskyinsider.com
---