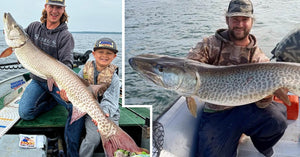 Summer Casting Tips – Plus-Sized June Muskies – Some Barred Beauties
Be the FIRST to see Musky Insider every week by signing up for the email version of this newsletter. It's 100% free and we will never sell your email address! Click here to sign up and never miss another issue.
---
---
LSC Casting Tips
Lake St. Clair is a straight-up musky factory. It's one of the few spots that offers the chance at crazy numbers AND giant fish.
We have some great tips from well-known guide Spencer Berman, who's notorious for casting out on LSC – let's jump right in:
"June is a trollers paradise on Lake St. Clair thanks to minimal mid-lake weed growth and lack of annoying 'floaters' getting caught up on your bait. You can keep your lures running clean all day long without much worry."
But alas, June is almost behind us.... Trolling is always viable on LSC (some guides will troll exclusively the entire season), but casting really comes into play once June is in the rearview mirror and the longer summer days generate mid-lake weed growth.
Trolling is crazy efficient, but casting has it's advantages, even on vast bodies of water like LSC:
Advantage #1 – "If the fish are buried in the weeds or relating tight to them it can be difficult to impossible to troll those fish up without constantly fouling your baits with weeds. Casting allows you to pick apart the weeds more effectively."
Advantage #2 – "Casting allows for a wider variety of baits including ones with more erratic pull/ pause retrieves such as Bull Dawgs and Medussas which at times will trigger more bites than a straight retrieved (or trolled) bait."
Advantage #3 – "New weeds often sprout up in patches and casters can work these isolated patches much more precisely and completely than a bait simply trolled by."
The moral of the story: Casting and trolling both catch a lot of muskies. Try to learn both, but catch 'em the way you want and have fun!
We're excited to have Spencer speak to our Insider PRO subscribers early next month – I'm sure he'll bring the heat 🔥
---
Let 'em go. Let 'em grow 💪
One thing that makes musky anglers uniquely different than walleye, bass and panfish guys is we release our target species 99.99% of the time.
Little old grandmas might think we're crazy, but we spend hours and hours on the water and go home empty-handed every time.... on purpose!
Haha, sorry! Had to.... ☝️
Not only do we have the biggest fish, we also have the best release shots – here's a few good ones we saw on the socials recently:
Excellent let-em-go shot from Matt Vavroch, watchin' the big girl wave goodbye!
Really diggin' this snap from Rivergoat Outfitters in Virginia.
Here's a really cool underwater view from Amaazen Outdoors:
Killer capture from Mikel Pitan releasing a 47-inch natural tiger musky:
Speaking of tigers....
---
Tiger Tamers
Here at Musky Insider, we support ALL muskies, even the sterile half-blooded cousins that have snot-rocket fathers.... 😂
But in all seriousness, tiger muskies are amazingly cool.
Let's take a moment to highlight some tiger 'skie catches.... We tried to find a few fish that had dramatically different markings to showcase how cool and unique these 'skies can be!
First, we have a big, chunky "west coast" spot-a-saurus from Dylan Martinez. Bonus points for taking the kiddos along on this successful tiger hunt 🔥
Next, we have a gorgeous little rascal from @bdbassinn. What it lacks in size, it makes up for with it's crazy colors/patterns:
The natural Great Lakes tigers are extra special. They grow BIG and can have an almost-shimmering appearance – like this one from Cole Lauzon:
You'll sometimes see tigers with thick, dark bars – this one posted by John Riegel in northern WI is a perfect example:
If you have an awesome tiger 'skie photos, send 'em our way (by replying to this email) and we might share in a future newsletter!
---
This Week's Mashup:
Mashup time!
#1 – If tiger muskies are named after their tiger-like stripes, I think this big purebred from Francis Demers should be a leopard musky.
That pattern is gorgeous 🔥
#2 – Anyone else ever have this conversation with your spouse.... 😂 
(via @poorlymademuskymemes)
#3 – Chin shots like this one from Ed Pascua will never NOT be amazing:
#4 – And fly fishermen will always be the best photographers for whatever reason. Props to George Daniel on this sweet snap in Catch Magazine:
---
QUICK HITTERS:
– MN Muskie Trail downsizing to one event for 2023 (link)
– Vermilion musky opener w/ Luke Ronnestrand (video)
– Northern WI musky fishing w/ Todays Angler (video)
– Ontario musky opener w/ 54 or bust (video)
– Northern WI musky fishing on a Baby Beaver w/ AA (video)
– Spring musky fishing in Iowa w/ Matt Vavroch (video)
– Throwback of Hayward area musky fishing w/ Next Bite TV (video)
– Kid landing a musky w/ Leisure Outdoor Adventures (video)
---
---
THIS WEEK'S

 MONSTER MUSKIES:
Huge congrats to Donnie Manz on winning the Brian Truax Memorial Muskie Tournament this past weekend! And when we say huge, we mean HUGE! This leviathan was just shy of 57 inches, and she ate a Grenade bucktail in the 8 💪
Jimmy Lacerte popped a 50+ incher on the first day of the Quebec musky season – awesome fish dude. Also, diggin' the new "war machine" 👍
Props to Chris on boating this big-bodied Canadian bruiser at @delaney.lake.lodge
Wanna be featured in Musky Insider? Send in your recent trophy musky photos by replying to this email. You might just see your pic in next week's newsletter. 🤙
---
---
Want to see more from Musky Insider? Make sure to follow us on Facebook and Instagram for bonus content throughout the week!
Send all business inquiries to josh@muskyinsider.com
---