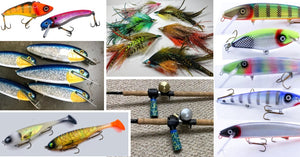 Sweet Musky Fishin' Gear & Tackle (Father's Day Special)
Be the FIRST to see Musky Insider every week by signing up for the email version of this newsletter. It's 100% free and we will never sell your email address! Click here to sign up and never miss another issue.
---
---
Bonus Issue: Dad's Day Special
With Father's Day right around the corner, we thought we'd put together a quick list of A+ musky gear that your pops will love.
Although, I think most guys will probably just end up using this as a personal shopping list... 😂
Alright, let's jump into the goodies:
---
Custom Colored Rubber
Rubber straight-up catches 'em – deep or shallow, spring to fall.
Add in some unique custom colors and you've got a perfect recipe for musky catchin' success.
Here's some sweet colors in a couple of our all-time favorite baits:
First, we've got the Pro Magnum Bull Dawgs: Albino Carp (left), Burnt Carp (middle), and Orange Head Perch (right).
.... and don't forget the Swimmin' Dawgs, which have blown up in popularity in recent years.
Really lovin' the Silver Twinkie (left) and Cracked Ice Citrus Tiger (right) colors. 🔥
Musky Innovations has WAYY too many cool colors to fit here in the newsletter, so check their website (muskyinnovations.com) for the entire spread of custom-colored Bull Dawgs, Swimmin' Dawgs, Shallow Invaders, Double Dawgs, Heli Dawgs, Dyin' Dawgs, etc.
---
Convertible Baitcast Flies
Wanna throw flies for muskies without actually learning how to cast flies?
Well, you can sling these beautiful flies from Muntz Angling with your standard musky baitcasting setup:
It's a really cool concept, and they have accessories you can add-on (spinner blades, buzz blades, chatter blade, etc.)
There's a crazy amount of unique fishy colors, too. It's definitely worth snooping around their website (muntzangling.com) to check out all the options.
In the meantime, you can enjoy this sweet boatside strike (from Keyes Outdoors) on one of the Convertible Baitcast Flies:
---
Game-Changing Rod Accessory
Anything that keeps you fishing longer is worth it's weight in gold.
Enter the Jig Ripper:
The Jig Ripper has been a game-changer for musky anglers who deal with pain/fatigue on the water.... or anyone looking to get ahead of the problem with some preventative measures.
Obviously, they're great for anyone, but it's the PERFECT pick for someone who has a hard time chunkin' big baits all day.
They've got a bunch of handle options, too, including cork, black EVA, and a number of Winn wrapped options:
This concept has changed the industry in a good way....
There's a number of rod manufacturers that have started building rods with Revolution Reel Seats built right into 'em. It's a good trend for the musky chasin' industry to go down.
---
In-Line Blades
#BucktailSZN is in full-swing across the Musky Belt thanks to this recent heatwave 🔥
Here's a couple new-ish fish catchin' options to pick up this year – the Trigger (left) and the Detonator (right) from Musky Mayhem:
The two colors above Paydirt (left) and Wicked Witch (right) are standards, but there's some excellent custom color options available, too.
Here's a few from Thorne Bros from left-to-right: Martian Green, Black Lightning, Crappie and Canadian Crush:
---
The Gift of Knowledge
There's no better investment (or gift) than knowledge.... especially when you can learn from some of the best musky anglers on the planet.
We've got a number of highly in-depth musky classes on our website (muskyinsider.com), jam-packed with useful information that will help "Dad" catch more and bigger muskies this season:
That photo is from our "Cutting Edge Open Water Tactics" class with Luke Ronnestrand and Josh Borovsky, our most popular class to-date..... but you can click here to see our entire catalog.
Grab a gift card if you can't decide which class to choose for Dad.
---
Slammer Cranks
If you're lookin' for an effective AND affordable trollin' crank, you can't go wrong with Slammers.
They've got a bunch of different profiles and sizes from 4-inch Deep Shads all they way up to 12-inch Minnows – plus Thorne Bros has an insane amount of stellar custom colors available:
From top to bottom, you've got:
Those are a few killer paint jobs, and you can find a bunch more good lookin' choices on the website....
---
Fishin' Trip
Why not give your dad a gift that BOTH of you are going to enjoy??
When it comes to making meaningful memories, it's tough to beat a week/weekend in a cabin.
Gotta give Agency Bay Lodge a shoutout here – not only do they support this newsletter (and help make it possible), but they have an amazing setup on Leech Lake. Perfect for a musky trip with the family 👍
Plus, you'll never have a problem spotting the lodge while you're driving in after a long day on the water 😉
You can't pick your family.... but you can choose which dock you'll leave 'em at while you're musky fishing!
---
Premium Trollin' Baits
If you want to get your pops something he'll really appreciate, you can't go wrong with Supernatural Big Baits.
Most of you have probably used their larger Headlocks and Mattlocks, but don't forget about their smaller, snack-sized offering – it's 100% worth checking out and adding to your spread:
That's the 8five – the 8.5 inch little brother of the Supernatural crew. It's a killer option when you want to run smaller cranks behind the boat. 👌
They always do a great job with the colors, too.
Actually, the colors in the photo were added to the website less than an hour ago, so you're getting the first shot at 'em before they're gone.
Here's the names of the colors in the photo, starting on the left side: Blue Rice (top), Foil Pike (middle) and Walleye (bottom). On the right side: Canadian Crush (top), Red & Green Perch (middle) and Rainbow Trout (bottom).
---
A REALLY Nice Rod
Want a Father's Day present that's impossible to mess up?
Let him build a totally customized Predator Rod over at Thorne Bros, either online or in their shop.
They have the best blanks out there, and you can customize EVERY aspect of the rod build, including the guides, wrap color, the length and action of the blank, handle material/length/thickness, etc.
It's the perfect gift for the extra-picky father who never seems to like anything you get him. 😂
---
Musky Leaders
One thing that EVERY musky angler needs is good, quality leaders!
There's a bunch of different lengths and materials to choose from, but if you're looking for premium construction, you can't go wrong with Stealth Tackle leaders.
They use high-quality components that you can trust when you're playing tug of war with a mega-monster musky.
If you're having a hard time deciding which leaders to grab, check out this writeup we did last year talkin' fluorocarbon vs. wire vs. multi-strand and also snaps vs. split rings.
There's lots of good information in there to help get you started 👍
---
Quality Musky Cranks
You can never have too many inexpensive, versatile musky lures.
Here's a few options from the H2O crew:
The Barbarian (left) is a slow-sinking lipless crankbait that's 7 inches long and can be rigged & weighted a number of ways to change the action and running depth.
The Cranky Nitro (right) is a 7-inch durable, thru-wire plastic crank that runs 3 to 6 feet on the cast, but can run even deeper on the troll with add-on weights.
Last up, we have the Cranky Nitro Halftail (see GIF ☝️). It runs 4 to 6 feet while casting, and has tons of customization options on the backside of the bait with replacement tails that are different colors, different shapes, or you could even use tails from other non-H2O manufacturers.
What's cool about all these baits is they are extremely versatile – you have the ability to modify and run them at various depths. And the construction is very good with solid plastic bodies, thru-wire systems, multiple coats of epoxy, tough lips, stainless steel split rings, etc.
These are excellent bang-for-your-buck musky crankin' baits. 👍
---
Want to see more from Musky Insider? Make sure to follow us on Facebook and Instagram for bonus content throughout the week!
Send all business inquiries to josh@muskyinsider.com
---