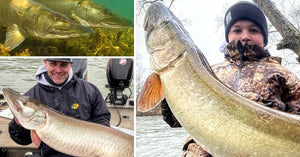 Targeting Musky in 💩 Zones – Lose Less Baits (tip) – Muskies 120+ Years Ago
Be the FIRST to see Musky Insider every week by signing up for the email version of this newsletter. It's 100% free and we will never sell your email address! Click here to sign up and never miss another issue.
---
---
Understanding "Poop Zones" 🤔
Was listening to the Saric/Pyzer's virtual seminar for the Spring Fishing & Boat Show this past weekend.
It was a good chat with some interesting tidbits, but one thing that REALLY stuck out was Gord Pyzer's thoughts & theories on 'kill zones' and 'defecation areas'.
Lots to unpack here, but here's a quick rundown of Gord's thoughts on the topic:
"We often talk about sweet-spots and the spot-on-the-spot, but I think we need to start thinking about them as kill zones."
According to Gordo, the key to finding these "kill zones" is lookin' just a few casts from the musky's defecation area or as we like to call it: the "poop zone". 😂
What is a poop zone, you might ask?
"These are sun-exposed, calm water spots (in roughly 3-6 feet). If you look on the bottom of these areas, you will see long white grease marks, which is pike or musky defecation. It looks like a white seagull mark on the underwater rocks. Fish use these areas religiously. It's like us using the restroom in our house. You eat in a different location than you use the washroom.

"They defecate in these shallow, warm areas, but usually, about 1 to 3 casts away, there is a 'kill zone' where they eat. When she's hungry, she'll move from the bathroom into the kill zone. When you find these defecation areas, you need to start looking around because there's a kill zone somewhere nearby.

"In these defecation areas, the suckers, tullibees, walleye, and smallmouth go on high alert, thanks to alarm pheromones in the water. They pass through these areas very quickly as a result. That's why muskies don't defecate in the kill zone, because it would spook everything they are getting ready to eat. These same pheromones attract smaller muskies and northern pike…. which encourages Esox cannibalism."
Most humans don't "defecate in the kill zone" either, so that's ONE thing we have in common with our favorite fish.... 😂
A lot of this info is based on pike research, but Gord believes it also applies to muskies. What's your opinion – does this make sense based on what you see on your favorite musky lakes?
---
Checking Rod Guides
There's nothing worse than casting your favorite, expensive, custom musky bait and watching it go bye-bye FOREVER as your line breaks on a bomb-cast.
Even worse, what about breaking your line, fighting a huge musky. 🤮
Well, here's a quick tip that will help you avoid that 'oopsie'....
The vast majority of line breakage and failures happen due to cracked or chipped rod guides. Even a small micro-fracture inside the guide can do a surprising amount of damage to your line.
One of the best and most overlooked ways to identify nicks, cracks and fractures is with an X-Acto knife, slowly spin it inside each guide.
This tactic will find micro-fractures you might miss with your eyes or a Q-tip:
From MN guide Josh Borovsky:
"I learned this many years ago when bringing a rod into Thorne Brothers to have a chipped rod guide replaced. Before sending the rod back to the rod shop, they checked all my guides with an X-Acto knife and found another guide that had one of these micro-fractures. I have been checking them that way ever since.
"Rod repair at Thorne's is reasonably priced and the turn-around is always pretty quick. Every rod I have ever brought in there has been meticulously checked over for any chips or cracks I missed, and that alone maybe saved me a lost bait or worse yet fish."
Now's the time to knock this kinda stuff off your to-do list – before the weather gets nice and you forget about it....
---
History of Musky Chasin'
Gotta give a shoutout to Larry Ramsell and OutdoorsFIRST on a really cool series they're doing right now called "Musky Hotspots" – here are links to the first three articles: (part one) (part two) and (part three).
Larry is well-known in the fishin' world as a hardcore musky historian, and in this series, he shares some shhhtuff from WAYYY back....
"Organized muskie angling was often written about beginning (as far as I have been able to find) in the 1880's."
Yes, he drops some musky history from 120+ years ago. Not sure where he finds this stuff, but it's impressive, man!
Here's a couple quotes that stood out – this first one's talkin' musky fishin' on Forty-Acre Shoal back in the 1800's:
"The most common early angling method was using local guides and row-trolling Skinner Fluted Spoons with a feather covered treble (gang) hook, from a double-ended St. Lawrence River Skiff. These skiffs were towed to the fishing grounds in a long chain of skiffs by a large motor launch, dropped off and retrieved at the end of the fishing day."
Now let's fast-forward to the mid-1900's when the Chippewa Flowage was kickin' them out like nobody's business:
"In July of 1956, Pete's Bar would produce three muskies in 35 minutes that would total 106+ pounds! Well known Flowage guide Ken Ackley, who himself landed a 23-pounder during the melee, guided Lloyd Sauer to a 40 ½-pounder and Bill Crawford, fishing nearby caught an even larger 42#-9oz. giant!"
Not sure where those big Chippewa 'skies were at during the PMTT last fall.... 😉
Does anyone else remember the Leech Lake Musky Rampage way back in 1955??
"Portage Bay is an extremely large bay and the "Hotspot" that this write-up is referring to is the extensive area of sand humps topped by muskie cabbage on the left side of the bay as you head into it from the main lake.
"While this area has long and continuously been a great producer of muskies, it obtained Legendary status in 1955, when the muskies of Leech Lake seemingly went wild and a couple of hundred were caught and kept there in two-weeks and a 105 from 17 to 42 pounds 6 ounces, were caught and kept there in the first five days!"
Here's a real photo from the 'Rampage' on Leech:
Mind-blowing stuff!
Thanks to Larry Ramsell and OutdoorFIRST for putting this stuff on the internet where it's easy for folks like us to read. 👍
---
This Week's Mashup
Few things that caught our eye this week:
#1 – How ridiculous is this high-flyin' tarpon jump from the Thorne Bros crew??
I think I'd have to visit my "defecation area" after that one.... 😂
#2 – Check out this beautiful spring musky shot from Engbretson Underwater Photography:
Big props to Eric and the crew on all the awesome underwater photos they capture!
Btw, the double-musky shot you see on the top of our newsletter every week was taken by another talented, well-known fishin' photographer, Bill Lindner 🔥
#3 – Looks like we've got a virtual Musky Odyssey comin' up this spring.
Dates are April 17th and 18th with live seminars on the Muskies Canada FB page, here's the description from their announcement:
"This event is a unique look at these fantastic muskie destinations: Sunset Country and Lake of the Woods; Georgian Bay, Lake Nipissing and the French River; the Kawarthas Lakes; Lake St. Clair; the Ottawa River, the St. Lawrence River; even the newest Big Muskie waters of New Brunswick."
There's also a silent auction to help raise money for research, education and conservation for Canadian muskies 👍
#4 – Not sure where Pete Maina found this contraption, but it seems like a solid option if your budget is completely fried after stocking up on "show colors" this winter.... 😏
---
QUICK HITTERS:
– FB Live Q&A with Brad Hoppe & Matt Seifert (link)
– Keyes Outdoors at the PMTT Championship (video)
– Snow fishin' for big muskies w/ Blue Ridge (video)
– Petition to increase Cave Run harvest min. to 45 inches (link)
– Throwback Green Bay trip w/ Todays Angler (video)
– Rods, reels and terminal tackle w/ Burnin' Eights (video)
– New Mobster Lobster lure (video)
– Musky fishin' in Hayward, WI (video)
---
---
THIS WEEK'S

 MONSTER MUSKIES:
Looks like this Christian Cisowski kid has handled a few fish! 💪 He caught this elephant fishin' in Virginia with the Blue Ridge Musky crew.
This big gal from Frank Porupski was part of a five fish day (51", 47.75", 42.5", 40" and 39.75") in West Virginia with his buddy Chase Gibson.
Props to Collin on putting this float fishin' fly-muncher in the net over in North Carolina, a state we don't get too many 'skie photos from....
We are LONG overdue to share some snub-nosers here in the newsletter, so we're gonna sneak one in here at the end. This little beauty was caught out west by tiger tamer, Michael Floyd.
Wanna be featured on Musky Insider? Send in your recent trophy musky photos by replying to this email. You might just see your pic in next week's newsletter. 🤙
---
---
Want to see more from Musky Insider? Make sure to follow us on Facebook and Instagram for bonus content throughout the week!
Send all business inquiries to josh@muskyinsider.com
---