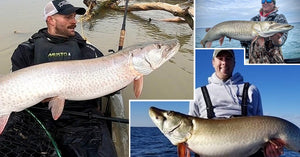 The best strike we've seen – Glide baits tips – Boating through ice
Be the FIRST to see Musky Insider every week by signing up for the email version of this newsletter. It's 100% free and we will never sell your email address! Click here to sign up and never miss another issue.
---
---
Glider Tips
Anybody remember this ridiculous boatside attack on Steve Genson's glide bait??
Insane.... What a heartbreaker!
Glide baits are crazy effective for getting fish to follow and strike when nothing else is trippin' their trigger. Here's a quick refresher with some great info from Steve on how to catch more 'skies on glide baits:
When's the best time to throw glide baits?
"The best time to use these baits is in cooler water – 65 degrees and less – but I've had great success throwing them all season long. They work great when fish aren't responding to straight retrieve baits or when I've located stubborn fish on a spot and I can't get them to move on other bait styles.
"They are excellent for fishing around rocks, weeds, wood and current seams – letting the lure pause for an extra moment on isolated sweet spots where muskies setup to ambush prey."
How do you work it?
"The most important tip I can give for glide bait fishing is to employ an erratic retrieve that's constantly changing. Mixup your speed and cadence multiple times within each cast. You never know what will trip their trigger.
"You want the fish to bite before it gets to boatside because gliders aren't the best baits in the figure-8. My go-to strategy to combat this issue is employing a "Death Pause" 3 to 5 feet from the boat.
"I'll use quick, fast movements with darting action, then I'll slow down my speed/cadence, and finally I'll give the bait a hard pop and let it turn to the side and hang there (AKA the "Death Pause"). That's when they'll come up and smack it!"
What makes a good glide bait?
"They should have a quick, darting side-to-side action. I also like to see a little wobble and a slow sink on the pause. The best baits are the one's that are easy to control, especially when I'm fishing with guide clients. That's why I like the Hellhound – of all the glide baits I've tried, it's the easiest to control. Phantoms and Mantas are great options, too."
Great tips from Steve – don't sleep on the gliders!
---
GIF Parade
Here's some musky GIFs for your viewing pleasure:
We've seen plenty of underwater trollin' strikes, but this WOOF from PJ Fishing might be the best one yet. The tandem Jointed Believers got the job done!
Found this crazy dock fishin' strike while surfin' around on social media. Pretty cool! #ByeByeBluegill
Lovin' the clutch net job on the latest Angling Anarchy video fishin' out in Iowa....
Great job keepin' the net outta the water until it was absolutely necessary.
Tough to beat a spicy slo-mo hookset – awesome clip from Jordan Thelen:
---
Musky Memes
For all you meme fans, here's some musky-themed memery I think you'll enjoy:
If you've ever gone fish-less after spending a full week in the boat, you're probably a musky angler.... I think we all feel like Jokers after a depressing grind like that!
Stickin' with the "Joker" theme, anyone who owns more than two musky rods can probably relate to this one:
Musky fishing is crazy expensive.... and it's also mentally all-consuming:
Every musky angler when their bass/walleye fishin' buddies start telling their exaggerated big fish stories:
---
This Week's Mashup:
Mashup time!
#1 – It takes some diehard dedication to launch your boat in this stuff – sweet clip from @dalyfishing 🔥
#2 – Not sure who owns this boat (saw it re-shared on social media), but he gets an A+ for creativity! Although I'm not sure I'd trust a repurposed scooter after watching my kids wreck a half-dozen of them over the past few years. 😂
#3 – Don't have a ton of information on this one either, but it sounds like this crazy lookin' golden/orange pike was caught on Lake Baikal.
#4 – This might be the best musky ink we've seen – killer sleeve Johnny Yucha 💪
---
QUICK HITTERS:
– Help Jeff Young's family pay medical/funeral expenses (link)
– Brand new "Musky Metric" book now available (link)
– Minnesota record is officially official (link)
– Eagle Lake muskies w/ Doug Wegner (video)
– Fall clearwater musky fishin' w/ Todays Angler (video)
– Brunswick expands production facility (link)
---

---
THIS WEEK'S

 MONSTER MUSKIES:
Congrats to Zander Aslesen on boating this ridiculously chunky 54.25 x 26" Mille Lacs mega monster!
Seriously impressive catch from Brent Bellefleur, landing this beast of a musky while fishing outta a kayak!
Great catch from Simon Lauzon fishin' in eastern Canada 🔥
Lovin' the patterns on this healthy Great Lakes buckin' bronco from Joe Batic.
Wanna be featured in Musky Insider? Send in your recent trophy musky photos by replying to this email. You might just see your pic in next week's newsletter. 🤙
---
---
Want to see more from Musky Insider? Make sure to follow us on Facebook and Instagram for bonus content throughout the week!
Send all business inquiries to josh@muskyinsider.com
---