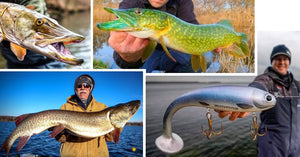 The Strongest Knot – New Musky Baits – Small River Fishin'
Be the FIRST to see Musky Insider every week by signing up for the email version of this newsletter. It's 100% free and we will never sell your email address! Click here to sign up and never miss another issue.
---
---
Clear It or Drop It?
The age-old question: When your buddy hooks up, do you free-spool your reel and immediately go for the net, or do you clear your line first?
It might seem like a simple and unimportant question, but like anything in musky fishing, one tiny mistake could cost you (or your buddy) the fish of a lifetime.
Musky Insider co-owner Josh Borovsky dropped his rod and went right for the net on this big 53.5 incher from big-fish-magnet Mike Chisamore:
Good thing, too, because the bait popped out of the fish's mouth as soon as she entered the net. #closecall
That said, Josh usually clears his bait first – here's why:
(These bullet points were shortened for the newsletter. You can read the full writeup on Josh's original post.)
1. He fishes around a lot of shallow, rocky cover. Droppin' the rod might mean damaging the boat when you go up to retrieve the snagged bait.
2. Some of his guide clients don't have experience or skills to help with removing snags, running a boat, unhooking a fish etc.
3. When your bait gets stuck on the bottom, you run the risk of losing the lures, but you also lose precious time during a key feeding window.
4. Sometimes, landing a big fish requires fighting it around the boat. If your buddy loses a big fish because your rod was in the way, who's fault is that?
This next one's a reality check for your buddy:
5. "If you lose a fish before the net gets there who's fault is that? Before you point the finger at the net man, you need to look in the mirror. You got beat by the fish and often times there were things you could have done different to win the battle."
If you have poor execution and don't put good hooks in the fish, can you really blame the net man if he takes a few extra seconds to clear his bait?
6. Sometimes, the reel can re-engage and you might end up breaking or losing your rod when it gets caught up on the bottom of the lake.
Just some things to think about....
Everything is situational and there are no hard-and-fast rules, but you need to make a decision, and you need to make it fast!
---
Strongest Fishing Knot
I think we can all agree that having good knots is extremely important.... especially when you're favorite fish can grow almost five feet long.
Many knots will work reasonably well, but musky anglers are obsessed with having the best-of-the-best, and rightfully so!
Thought this was an interesting video from bass pro Brent Chapman testing different popular knots:
It definitely wasn't a scientific testing process, but he was using 65lb braid (a little less than what most musky guys might use) and the results made a lot of sense....
Any knot that had the line going through the line tie twice (ie. Palomar or Improved Uni) outperformed knots that held onto the bait with just one loop (ie. Clinch Knot or Single Uni).
At the end of the video (teaser alert), we find out that Brent's Improved Uni Knot holds up the best to his strongman testing methods.
For those wondering, the "Improved" version is just like the original, but you need to double-up the line first. Here's how you tie up a simple Uni Knot:
Just don't forget to double-up the line first!
What do YOU use to attach leaders to your mainline?
---
Random Bait Stuff....
Here's some cool stuff we came across this week:
Check out this brand new flaptail from Bomb Squad Baits (new company). It's 6.5 inches long and uses higher density material that helps the bait ride lower in the water. It also has a loose, clunky disc in the back that creates extra sound, in addition to the flapping blade.
Haven't tried it yet, but looks pretty cool:
Now, for all you fly-slingers....
Really diggin' this tank view from Gunnar B. showing off a new fly on camera:
No idea if this is common in the fly tying world, just thoughts it looked sweet.
This next one's going to be REALLY popular next year....
Musky Innovations is coming out with a new plus-sized (16 inch) Monster Shallow Swimmin' Dawg – here's a sneak peak:
Not seeing it for sale anywhere yet, but Doug Wegner recently did a video showin' it off with some underwater footage and close-ups.
---
Another "Blue Pike"
You might remember a few months back when we shared this strange "blue pike" from Rob Kalpinski on the Root River in WI:
Pretty darn cool, but look what we stumbled upon while surfin' the web this week....
This little French pickle is even MORE bright and colorful than the Wisco version:
Wouldn't mind seeing this greenish blue gator when she's 40+ inches long....
---
QUICK HITTERS:
– Small boat river fishing on Keyes Outdoors (video)
– Joe Bucher is kickin' out YouTube videos again (link)
– "Husky the Musky" in Kenora needs $50k in repairs (link)
– TV show: Some Ontario musky action (video)
– Musky catchin' on Lake Kinkaid in Illinois (video)
Reminder: Stealth is still doing a giveaway for all January customers (link)
---
---
THIS WEEK'S

 MONSTER MUSKIES:
Big congrats to John on boating this extra-girthy musky fishin' with well-known southern guide Ken Trail:
Shelly Kay busted this beautiful late fall Wisconsin musky fishin' with the Burnin' Eights crew this past season. Guessin' this won't be her last musky now that Jake Tappe put a ring on her finger! Congrats you two 👍
You can watch the battle on the Burnin' Eights YouTube channel.
Not the biggest musky in the river, but really lovin' this photo of Shane Stewart, hoisting a hungry fly-eater.
Props to Brandon Husak on putting his dad on his new personal best musky this fall, a 50 inch porker!
Wanna be featured on Musky Insider? Send in your recent trophy musky photos by replying to this email. You might just see your pic in next week's newsletter. 🤙
---
---
Want to see more from Musky Insider? Make sure to follow us on Facebook and Instagram for bonus content throughout the week!
Send all business inquiries to josh@muskyinsider.com
---