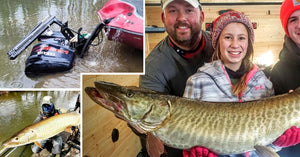 Toilet-tested Lures 😂 – Does Sound Impact Muskies? – Barred Beast Iced
Be the FIRST to see Musky Insider every week by signing up for the email version of this newsletter. It's 100% free and we will never sell your email address! Click here to sign up and never miss another issue.
---
---
This Week's Mashup
Gonna do things a little bit different this week and kick the newsletter off with a few rapid fire mashup items:
#1 – Unfortunately, there's no MN Musky Expo this year, so Thorne Bros is steppin' up with a ridiculous seminar lineup this weekend (Mar. 5-7).
Here's the times/speakers:
#2 – Next up, we've got some wicked boatside action from Chris Mahan. 
Gotta love it when they bite at your feet AND go airborne shortly after.... 😍
#3 – Lots of companies will be doing "show specials" this weekend, so make sure to check out what your favorite baitmaker is up to.
Here's a few of the custom show colors from Musky Mayhem in their Trigger & Detonator bucktails, available Friday:
(Use code MNMUSKY on Friday to get 'em with free shipping 👍)
Also gotta give a shoutout to Stealth Tackle for supporting the newsletter – this is the last weekend to get free shipping on their site!
#4 – Had to do a double-take when we saw this one come across our newsfeed. Must of been a BAD day for this dude....
Actually super impressed this boat was still floating. I guess that's what they mean when they say "unsinkable"....
---
"Toilet-Tested" Lures
One of the biggest gems to come out of 100th episode of the Back Lash Podcast (and there were a bunch of 'em) was Brad Hoppe sharing his strategy for pickin' out the perfect Musky Buster back in the day:
"Back 15-17 years ago, I would walk into Thorne Brothers and grab a handful of Musky Buster Appealers. I would take them into the bathroom, pull the lid off the back of the toilet and drop them all in there and see which one sunk the fastest. That's how I chose which bait I wanted to buy."
That's some serious dedication.... LOL
Wondering if we'll see a sign that reads "Please keep the merchandise out of the toilets" next time we stop by the shop. 😉
The Thorne Bros shenanigans don't stop there! Brad's not the only one who takes his lures selection extra-seriously.... This one's from MN guide Josh Borovsky:
"When I used to work there, I learned certain wood baits were made at very inconsistent sizes. The wider longer ones were A+ fish catchers. So when shipments came in I would lay them all out and compare them next to each other and find the biggest one.... sorting and comparing 30 baits to find the 'one'."
If you bought your Jackpots at Thorne Bros back in the day, I can promise you never had one bigger than Josh's. 😂
Here's a real-life clip of Josh leaving the store after his shift with the biggest Jackpot in the Twin Cities metro area:
Don't worry, I'm pretty sure they don't let Brad in the bathrooms anymore 😂
---
Okoboji Hardwater 'skies
Honestly, the only thing as cool as watchin' a musky eat at your feet on the figure-8 is watchin' them on an underwater camera, in their natural environment.
There's lots of cool footage out there from ice anglers ft. big muskies, but this video from Calvin Grosvenor really caught our eye:
Not sure if that bluegill has a death wish or is just REALLY hungry....
Also, how cool is that habitat??
I got the rundown from Calvin and his dad John on this spot a few weeks ago. This truck was sunk back in the 1930's (while harvesting ice) and it's been a serious fish magnet ever since.
Dudes fight over this 'spot-on-the-spot' every year on early ice – first one to setup a hub house or a hard house, lays their claim for the rest of the winter. If you're not within a few feet of the truck, you won't catch nearly as many fish.
Only reason we're talkin' about it here is because the spot kicks out some SERIOUS 'skies from time to time – like this barred beast:
This beauty ripped a rattle reel and eventually took a tour of John Grosvenor's wheelhouse after a hand over fist battle.
Muskies are out of season there, but it sounds like they got her back in the water quickly after an A+ family photo 👍
---
The Musky/Sound Equation
Musky fishin' folks love to utilize sound to attract muskies....
We'll bend plopper fins to make 'em clank against our treble hooks. We'll add dangling wires to the front of our bucktails to create extra noise when they "tick" the blades. We'll put barrels underneath our bucktail clevises to create unique grinding sounds that muskies have never heard before.
If we're being totally honest, I think we'd all agree that musky anglers are an obsessive group, and sound is something we tinker with a TON....
But what does the science have to say about muskies & sound?
John Anderson (Musky Factory) did an interview with biologist Sean Landsman, coverin' that exact topic.
Some pretty interesting info that's worth checkin' out, including exactly how muskies hear sound and whether or not blaring Motley Crue on your sound system will help you catch more muskies.... 😂
---
QUICK HITTERS:
– Steve Herbeck interview w/ Todays Angler (video)
– Mountain muskies in Virginia w/ Keyes Outdoors (video)
– Record $1.09 billion in excise tax (link)
– More summer musky action from Luke Swanson (video)
– First video from "Devoted Angling", John & Ashley Holmgren (video)
– Musky tackle talk with Fischer & Jason Smith (video)
– Report the tag info on your Virginia musky for some $$ (link)
---
---
THIS WEEK'S

 MONSTER MUSKIES:
Not gonna lie, I'm kinda diggin' this bazooka-style hold from Doctore John 💪
Feast your eyes on this big Ohio bruiser from Black Water Musky:
Not sure what's more impressive, the musky or the stashe? Well done, Adam Zech!
You can bet Erik Jacobson isn't the only one missin' musky fishing in Minnesota right about now.... He dug this northern MN ghost outta his 2020 archives and shares with us this week. Beautiful 'skie!
Wanna be featured on Musky Insider? Send in your recent trophy musky photos by replying to this email. You might just see your pic in next week's newsletter. 🤙
---
---
Want to see more from Musky Insider? Make sure to follow us on Facebook and Instagram for bonus content throughout the week!
Send all business inquiries to josh@muskyinsider.com
---