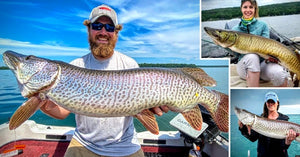 Top 3 Spots & Baits – Rare Musky Caught – Pete Maina thoughts
Be the FIRST to see Musky Insider every week by signing up for the email version of this newsletter. It's 100% free and we will never sell your email address! Click here to sign up and never miss another issue.
---
---
Hot Water = Not Great
We've talked about it before, but it's probably worth repeating:
Avoid musky fishing when water temps hit that 80 degree mark.
There's nothing magical about number 80, but it's a good rule of thumb. Pete Maina recently posted a video on why it's important to give 'em a break when temps get too high:
A couple key points:
"What occurs at the 75 degree mark is you have a dropoff of about 20% in the dissolved oxygen levels in the upper layer. Obviously you can understand why that's a problem."
Less oxygen makes recovering from the fight more difficult.
"The other huge thing is delayed mortality. How many fish float when they die? About 10%"
So, for every floater you see, there's probably another NINE at the bottom of the lake??? That's pretty depressing....not gonna lie.
We can't tell you what to do, but consider giving the 'skies a short break if water temps get too high – especially when the water is hottest later in the day.
Pete is a legend in the sport, but we're especially impressed by his ability to somehow wear his sunglasses above his eyes and below the brim of his hat. It's tougher than it looks! #FashionStatement
Off topic, but did any of you see this photo from last weekend in northern MN:
I'll give 'em a few points for creativity at least.... 😂
---
Musky Movement
Gord Pyzer posed an interesting question in his recent article in Outdoor Canada.
Why do muskies colonize certain parts of lakes & rivers and ignore areas that seem fairly similar?
This isn't uncommon and chances are, there's a number of factors at play.
Gord shared some good quotes, including this one from Dr. John Casselman:
"Muskellunge, generally, are not great movers. Their summer habitat is usually not far from their spawning and nursery areas, and when they do move, it's usually an indication of following available prey."
And when muskies are ready to move, they can REALLY move....
"The best example of this is the fall migration of muskellunge up the St. Lawrence River into eastern Lake Ontario, where they follow alewife migrating back into the lake for the winter."
But just like a recent college grad, they always end up back in their hometown:
"Interestingly, though, in the spring they move back again to their spawning habitats in the river. They show strong fidelity to spawning locations, and I somehow suspect that this is a factor controlling their abundance."
That same holds true for several species of gamefish.
I've heard stories of smallmouth bass swimming across massive lakes to return to their spawning grounds after tournament weigh-ins.
---
3 Tips from Jim Saric
Jim Saric and JP DeRose (one of the nicest dudes out there) recently hopped on video and did an hour-long chat on musky fishin'.
Click here to watch the final product:
They covered a lot of good stuff – here's a few of our favorite points:
Jim's system for breaking down water (18:50):
"I look to fish a lot of islands, because that's a great way to find muskies. Typically on the southeast end of every island, you're going to have shallow water, softer bottoms, and maybe weeds or bulrushes. On the north or northwest end you might have rocks or a rock extension. I like to fish around the entire island to see if there's any pattern for the day."
Jim's top three presentations (41:00):
Double-10 bucktail – a

 

10/10 Apache

 

or a

 

10/10 Stagger
Large minnow bait – a 9"

 

ShallowRaider
Topwater – a

 

TopRaider at low-light
He shares more info on how to fish them in the video.
How Jim is catching 'skies RIGHT NOW (45:26):
"On a lot of the lakes I've been fishing, I'm seeing a lot of bait suspending outside of the weed line near the break, possibly due to the heat. I'm catching a lot of fish in my boat in 20-30 feet of water casting toward the weeds, but my lure maybe only gets to the weed line if I'm lucky. I've been filming a lot of shows and catching a lot of fish doing that. That's the most consistent area I've found fish so far this summer."
Lots of good nuggets throughout, so make sure you check out the full interview 👍
---
BIG Quasimodo-Shaped 'Skie
A couple weeks back, we shared a few photos of some small-to-moderate sized UGLY muskies & pike.
Well, turns out the Quasimodos of the world come in plus-sized packages, too!
Check out this 54-inch humpback Dan Burrow sent in, fall fishin' in Minnesota.
Here's the bump board shot:
One trip to the chiropractor and this big girl could have been a double-nickel! 😉
---
QUICK HITTERS:
– Maina fishin' in Virginia with the Blue Ridge crew (video)
– 8 bite morning w/ Doug Wegner (video)
– Northern WI musky fishing w/ Todays Angler (video)
– Gregg & Tony interview top 3 teams from Eagle River (audio)
– Nighttime 53 incher on Green Bay (video)
– Four footer on the figure 8 (video)
– Ohio 48 incher trolling (video)
– Musky lunches a Tail Dancer w/ an underwater camera (video)
– Talkin' musky fishing in North Dakota (link)
– New Minn Kota Raptor shallow water anchors (video)
---

---
THIS WEEK'S

 MONSTER MUSKIES:
Is this the prettiest musky in the state of Minnesota?
Big thanks to Luke Swanson for sending us this photo. It's one of his guide clients, Benjamin Fries, with a gorgeous natural tiger musky from northern MN.
That's a rare creature – what a treat!
Feast your eyes on this big bodied, 55 inch ghost rider from Jessica Heller that crushed her green-tailed Baby Beaver under the cover of nightfall.
Saw this extra-chunky monkey on the Muskies Inc. FB page this past weekend and had to share. This 'skie is the definition of "girthy".
Big congratulations to Taylor Arlis on cracking a 50-incher fishin' Lake St. Clair – the land of the spotted giants!
Wanna be featured on Musky Insider? Send in your recent trophy musky photos by replying to this email. You might just see your pic in next week's newsletter. 🤙
---
---
Want to see more from Musky Insider? Make sure to follow us on Facebook and Instagram for bonus content throughout the week!
Send all business inquiries to josh@muskyinsider.com
---