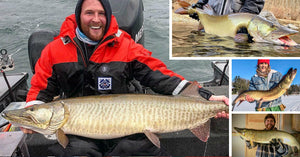 Top 5 Bucktails – Bob Ross Bait Colors – Musky Mullet?
Be the FIRST to see Musky Insider every week by signing up for the email version of this newsletter. It's 100% free and we will never sell your email address! Click here to sign up and never miss another issue.
---
---
Super Slick Bucktails
Our buddy Doug Wegner recently posted up a video breakin' down his top 5 musky bucktails from this past season:
Lots of good info in the video, but here's a quick overview of Dougie's picks:
#5 – MuskyFrenzy Triple Bladed Apache
Three Indiana blades rigged up on a 3-in-1 clevis. Believe it or not, the Triple Bladed Apaches actually pull less than your typical double bladed bait. Like Doug says in the video, "it's all about finding something different." This one fits the bill.
#4 – Spanky Bucktail
Built on extra-hefty .062 wire, with thick Colorado blades and a bonus hook in the middle of the bait. This one's produced for Doug on both Green Bay and LOTW.
#3 – Revolution Ticker
The one-piece blade rotates like crazy and gets "ticked" by the wire as it spins. The bait itself doesn't have much lift, which means this bait runs a little bit deeper.
#2 – DS4 Bucktail
Doug actually put together his own custom version with thicker blades in the front and thinner blades in the back. It's a unique look fairly new to the musky world.
#1 – MuskyFrenzy Staggers
Lots of different sizes to choose from in the Stagger lineup, but Doug is particularly fond of the 8/9. The one-piece clevis allows you to run two different sized blades without startup issues – the 8/9 has a #8 Colorado and a #9 Indiana.
Good list – now all that's left to do is wait for bucktail season! 😉
---
Worst Tattoo Ever?
Okay, okay, that might be a little harsh...
We love muskies and have nothin' against mullets, but not sure how much we're lovin' the combo platter:
This is what happens when you lose a musky catchin' challenge with the Rio Outdoors crew. Here's a link to the video.
Definitely a harsh punishment, but not the WORST tattoo we've seen....
---
Fancy Paint Jobs
How much does color actually matter??
That's a discussion for another day. Today, we're gonna drool over some crazy paint jobs that are almost too dang pretty to throw.
First up, we're lovin' these Super Holo swimmin' dawgs from Innovations:
How 'bout these fish catchin' colors on the new 8fives from Supernatural #shiny
These crazy lookin' koi-colored gliders are straight outta Europe (no surprise), so technically they're made for pike. I think we all know the Esox masquinongy would gladly take a rip at 'em, though.
This is one of our favorite times of year watchin' the bait makers channeling their inner Bob Ross, makin' up special show colors. Can't wait to see the fresh paint jobs over the next few months.
---
Esox Xbox-ongy
So, apparently you can catch muskies on a video game??
Suuuuper random.
We're not huge into the gaming life, but it's cool to see muskies highlighted ANYWHERE.
Although looks like they're more into the #harvest than catch and release 🤷‍♂️
---
QUICK HITTERS:
– Underwater jigging & musky follows (video)
– Chicago Muskie Expo, Jan. 17-19 (link) 
– Tying up a musky fly (video) 
– West Virginia musky fishing in a kayak (video) 
– Musky eats a muskrat under a dock (video) 
---
THIS WEEK'S

 
LUNAR TIMES:
(Times based on Minneapolis) 
---

---
THIS WEEK'S

 MONSTER MUSKIES:
Let's kick this week's Monster Musky section off with this fly-eatin' river monster from Capt. Joel Dickey. Most guys head south in January, but Joel (a FL fishin' guide) thought he'd give the tarpon a rest for a quick trip up north to chase 'skies. Looks like it paid off!
Fishin' on brutal weather days is no fun, but it's all worth it when a mega-tanker snaps your crank on the turn – just ask Brian Klein!
This metro musky was looking for an easy meal underneath John Nelson's home away from home on Lake Minnetonka and ended up getting a tour of the place... #bluegillguzzler
Let's wrap this thing up with another toothy hardwater 'skie, this time from Olivia Hageness in Wisconsin!
---
Want to see more from Musky Insider? Make sure to follow us on Facebook and Instagram for bonus content throughout the week!
---