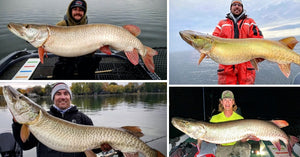 Two 50lbers in One Day – MORE New Live-Viewing Tech – Soft Plastics Tips
Be the FIRST to see Musky Insider every week by signing up for the email version of this newsletter. It's 100% free and we will never sell your email address! Click here to sign up and never miss another issue.
---
---
100 Pounds of Musky....
Most folks dream of catching ONE fifty pound musky in their lifetime.
Well, Ben Knutson popped a pair of them in one day....
Feast your eyes on these sumo-sized Mille Lacs muskies:
After crackin' a mid-40 incher earlier in the day, he proceeded to boat a 56.5 x 27 and a 53.25 x 28.5, both on Bull Dawgs 🔥
Ben spent 16 days on the pond this year and was fortunate enough to put 10 fish in the boat – pretty crazy numbers for Mille Lacs....
Here's a LIVE look at the musky-heads who've given up on fishin' Mille Lacs in fall:
BTW, if you want to sneak a peak into Ben's boat while he's castin' up fall muskies on the Pond, check out this video from Doug Wegner:
You also get to see a (small) portion of Luke Ronnestrand's bait collection in the background of the video intro.... 👀
---
Swimmin' for Muskies
Ever set the hook so hard on a 'skie that you fell in the drink?
Well, that's what happened to Apex Angler MN on this livebait snap-set:
Best part is he got back in the boat quickly and safely, didn't lose the rod.... and still managed to land the fish.
Lovin' the recovery celebration ✊
This is a good reminder: wear your lifejacket when you fish alone (especially in coldwater conditions).
This situation could have been a lot worse. Lucky it wasn't!
---
"The great silver ghosts haunted my every dream and consumed my waking hours. If it had been cocaine instead of muskies, I'd have made Keith Richards look like a choirboy."
That's Gord Pyzer talkin' about earlier in life when he was "mind-numbingly obsessed" with musky fishin'.
Gord makes the point that back when he was hopelessly addicted to 'skies, lure choices were a lot more limited. One of the biggest "game-changers" was the introduction of rubber baits, which is the focus of his article.
Here's a few interesting tidbits from the writeup....
This was wayyy back when Brad Ruh started the Dawgin' revolution:
"At the time, competitors were allowed to use two rods, so Ruh would cast out a Bull Dawg, let it fall to the bottom, lay down the rod and do the same thing with a second outfit. Then he would pick up the first rod and retrieve the bait, swimming and pumping it back to the boat. If he didn't catch a fish, he would fire it back out, lay down the rod, and retrieve the second Dawg that had been lying on bottom. Ruh won so many events double-teaming his Bull Dawgs that tournament organizers began to stipulate that competitors could only have one bait in the water at a time."
And here's some good info on how to adjust your cadence to catch more 'skies:
"When the best muskie anglers work a soft-plastic lure, their retrieves are never predictable or consistent. They're always speeding up, slowing down, [etc.]."
There's lots more we could highlight, but you should probably check out the full article if you're hungry for more. Gordo shares lots of good info and some origin stories for some of today's most popular soft-plastic baits.
---
Sonar Wars – Round 2
It took a few years of playing catch-up with Garmin, but it seems like LIVE sonar will finally be a "commodity" in the fishin' electronics world in 2021.
Lowrance recently announced Active Target – a HUGE upgrade to their current live viewing tech – and it looks pretty solid.
Some are saying it "looks better than Livescope" – it's at least in the same ballpark anyway....
Here's a sweet clip from a Russell Marine vid of Active Target in "Scout" mode (which is similar to Garmin's Perspective Mode with the transducer flipped on it's side, pointing out in front of the boat):
Sounds like it's going to retail for $1,500, which is similar to Livescope and Humminbird's MEGA Live from what we're seeing anyway.
Although, it looks like Garmin's runnin' a $200 rebate right now, so that helps....
A few more items to note:
#1 – It works with HDS Carbon, HDS Live and the new Elite FS units.
#2 – You don't need additional hardware to mount your transducer in the horizontal "Scout" mode.
#3 – The cone angle is 18 degrees wide (which is smaller, but more precise than the 40 degree angle on the older LiveSight tech) and 135 degrees long.
Watch their promo video if you're having a hard time picturing #3 in your head.
This live viewing stuff isn't cheap, but there's some really cool applications for musky fishing if you can get your hands on it.
The three biggest players in the freshwater electronics game are all on board now, so hopefully that means more innovation and possibly some lower prices.....
---
QUICK HITTERS:
– Boatside musky action on a Wirth FlapTail (video)
– Big river muskies on livebait w/ Todays Angler (video)
– Fly fishing muskies w/ Blane Chocklett & Mad River Outfitters (video)
– Ken Duke's reflections on Ron's passing (link)
– Early fall weed fishing on Madison Chain w/ Angling Anarchy (video)
– John Hoyer is one of the new Next Bite TV hosts (video)
.....wonder if that means more musky episodes?? 😉
---

---
THIS WEEK'S

 MONSTER MUSKIES:
Check out the belly on this bleach blonde rubber-eater from Chrish Crete in Ottawa.
Props to guide John Riegel on producing this seriously massive Sconnie from the southeast part of the state. #porknanny
Donnie Manz trolled up this big Leech Laker on a Supernatural crank – one of three fish that night for 150+ total inches. 🔥
Anyone else miss t-shirt weather??
Thanks to Adam Listopad for sending us this portly 50 x 24" he caught fishin' out in Virginia with Sam Scott (@blueridgemusky).
Wanna be featured on Musky Insider? Send in your recent trophy musky photos by replying to this email. You might just see your pic in next week's newsletter. 🤙
---
---
Want to see more from Musky Insider? Make sure to follow us on Facebook and Instagram for bonus content throughout the week!
Send all business inquiries to josh@muskyinsider.com
---