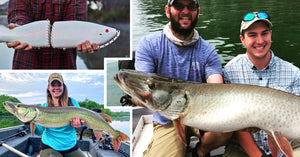 Ty Sennett Spring Tips – $1000+ Swimbait – Jim Saric Chimes In
Be the FIRST to see Musky Insider every week by signing up for the email version of this newsletter. It's 100% free and we will never sell your email address! Click here to sign up and never miss another issue.
---
---
Northern WI Opener
Ty Sennett might be smashin' the walleyes right now on the Flowage, but you KNOW he's chompin' at the bit to get out and chase some northern WI 'skies on opener in just a couple days!
We reached out to see if he had any advice for anglers hitting the water this weekend.... and he delivered the goods! 👍
Lets start with where he'll be starting his search:
LOCATION
"The muskies are transitioning out of the spawn right now with water temperatures in the 63-66 degree range. I've been seeing muskies (while guiding for walleyes) near the outside weed lines which are growing in at 5-7 feet right now on the Chippewa Flowage. I thought weed growth would be a little further along by now based on the conditions we've had, but they've been coming along strong recently.
"Weed points should be productive this year for the Opener. Another great bet for putting muskies in the boat will be warm back bays, fishing anywhere from 3 to 5 feet of water."
Now that you know WHERE to look, here's a few tips for getting them to bite:
PRESENTATION
"As I mentioned earlier, the fish are in transition right now, which means they are going to be in a bit of a funk. In these situations, I like to slow down my presentation. I like using jerkbaits and twitch baits with good hang time, working them about three feet below the surface.
"A few of my g0-to options include Vexars, Slammers and smaller Big Game cranks. For glide baits, I like the AP Glider and small Phantoms this time of year.
"Here's a quick tip I utilize to get more hang time on some of my twitch baits before they float up-and-out of the zone. Clip a 3/16th ounce bell sinker to the middle hook – this is the perfect weight for maintaining the action of the bait, slowing the float-speed, and adding a little extra belly-roll as your work the lure.
"I'll also be using bucktails this upcoming weekend. The Showgirl (double 8's) is a great option for casting back bays, but my primary set of blades for this coming weekend will be the Baby Girl (double 6's).
"I'm fishing my bucktails slower right now, but will be speeding them up dramatically once we're a couple weeks into the season (mid June)."
Ty said "not yet" on topwaters for Opener, although he might use them some in the evenings. He also mentioned they might play on the clearwater lakes in the area.  The rubber bite should be good on those lakes as well (ie. small Bull Dawgs).
Thanks to Ty Sennett for letting us pick his brain – best of luck on the Chip this weekend!
---
Saric on Leaders
Came across this "Musky Leaders 101" post from Jim Saric on the mercurymarine.com website and thought we'd give you a quick summary here on the newsletter.
Let's jump right in – here's Jim's go-to leaders:
130-pound-test fluorocarbon, 14 inches (LINK)
This is his multi-purpose leader:
"I use that for most musky applications, including bucktails, shallow-running crankbaits, prop-style topwater, swimbaits and even deep-running crankbaits. Because it's flexible, the leader really allows a lure to have its natural motion. It's also low-vis. For most lure categories, the fluoro will get it done for you."
170-pound-test single-strand wire, 12 inches (LINK)
He'll use single-strand wire on walk-the-dog baits to "enhances the side-to-side movement" of the bait and avoid overrunning that happens with fluoro.
It's also his top pick for dive-and-rise minnow baits that take a beating as he works them over rocks.
130-pound-test seven-strand braided wire, 12 inches (LINK)
Speaking of rocks.... Here's when Jim likes to use seven-strand braided wire:
"I'll use it if I'm fishing a deep-running crankbait and I'm fishing around a lot of rocks, or maybe I'm banging into a lot of cover. I'll also use it to fish deep weeds because if my lure gets fouled, I can lower my rod tip, snap it back and that leader will 'explode' that weed cover off the lure."
Fluoro & wire trolling leaders, 36 inches (LINK)
And here's his thoughts on trollin' leaders:
"I'm only using the braided-wire leader when I'm trolling deep and around rocks in the fall. Say I'm trolling a crankbait in 15 to 25 feet of water and it's bouncing off boulders or over a shallow hump. That's when I use wire. Otherwise, I'm using the fluoro for all other lures."
Hopefully this helps those of you doing some last-minute gear preparation before the weekend!
---
Unrealistic Expectations
Why is everything always exaggerated in video games?
Seems like every game of Madden ends up lookin' like this by the fourth quarter:
The craziness extends into fishing games, too.
(Yes, fishing games are a thing 😂)
This 61 inch, 42.75 pound tiger musky came from a game called Fishing Sim World, which I believe was made in the UK:
Not sure who told the game developers that tigers grow to 61 inches long....
Especially since the 100 year old IGFA world record was just 52.25 inches long 😬 (albeit 51 pounds 3 ounces):
I've got nothing against fishing from the couch.... I just prefer to do it like this:
---
Crazy Expensive Swimbait
Turns out the only people crazier than musky anglers are..... bass anglers??
The swimbait below is 22+ inches long, 2.6 pounds and costs $1,147 (that's a lotta cheddar). And it was designed in Japan to catch largemouth bass:
I know they've got some big bass in Japan, but they don't actually use this for largies, do they??
Here's a blurb from the product description:
"The Manifold Deniro Yugo Frame 550 Glide Bait is covered in 100% horsehide leather that goes through a vegetable tanning process by Shinki Hikaku co. then is hand stitched around the entire exterior of the bait. The leather exterior also does not get colder in the water like traditional ABS plastic, which ensures the bait has a warmer body temperature and a similar texture to a living baitfish for a more natural presentation."
Some bold claims in there for sure.
Hopefully this bait doesn't get too popular.... for the sake of the horses! 😂
Honestly, I won't be surprised if I see someone castin' this for muskies this summer. 
If there's people that will spend 60+ million on a fake internet photo, there's definitely a market for $1,000 glide baits.... 😂
---
QUICK HITTERS:
– More WI Musky Opener Tips w/ Backlash Podcast (link)
– NY musky season opens on most inland waters this weekend (link)
– MN Metro Muskie Tournament, June 12th (link)
– Bucktail vs. Tinsel vs. Marabou w/ Doug Wegner (video)
– More Iowa musky action w/ Angling Anarchy (video)
– Wisconsin Youth Muskie Championship, June 12th (link)
– Big throwback Canadian musky w/ Herbie & Steve Worrall (video)
---
---
THIS WEEK'S 

FEATURED MUSKIES:
HUGE props to Kentucky musky guide Tim Barker on putting his client on a chubby 50-inch Bondy-eater on Cave Run Lake. 💪
Seems like there's been some really nice muskies coming outta Pennsylvania this year.... including this big gal from Mat Haas. #SoloFishin'
Flat calm weather and a gorgeous Illinois greenback 'skie – it doesn't get any better than that! Congrats to Jes Graves on bustin' her PB this week 🔥
Wanna be featured on Musky Insider? Send in your recent trophy musky photos by replying to this email. You might just see your pic in next week's newsletter. 🤙
---
---
Want to see more from Musky Insider? Make sure to follow us on Facebook and Instagram for bonus content throughout the week!
Send all business inquiries to josh@muskyinsider.com
---