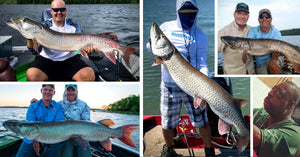 U-G-L-Y Muskies – Our Fav Musky Memes – Rare Esox Caught (BIG)
Be the FIRST to see Musky Insider every week by signing up for the email version of this newsletter. It's 100% free and we will never sell your email address! Click here to sign up and never miss another issue.
---
---
Some U-G-L-Y Muskies....
Just like people, not all muskies were created with stunning good looks. We hate to call any musky "ugly", but you probably won't see any of these fish on the cover of a magazine. 😂

First up is a one-eyed, half-tailed zombie 'skie from Erik Porter. She hit 50" on the board, too!
How 'bout this one from Chad Vandergriff and Travis DeWitt on Lake of the Woods???

Not sure about the red blotchy rash along it's side, but the snub nose is definitely a prominent feature:
Tough to see in the photo, but this night stalker from Dylan Rose had a nasty humpback. You can take a better look in this video.
If you've caught a particularly hideous musky, send 'em our way and we might give you a shoutout in a future newsletter!

The best way to reach us is replying to our emails. 👍
---
Tonka PMTT This Weekend
For all you tourney guys & gals – there's a big one happening this weekend on Minnetonka. Despite the mid-summer weekend boat traffic, there should be plenty of fish caught.

Last we heard, water temps were 81°+ in the North Arm and Crystal Bay just yesterday (Tuesday), but thankfully it's lookin' like some cold nights might pull it down a bit before the event:
Our own Josh Borovsky has had some excellent tournaments on Tonka, but opted to pass on this year's event when he saw it on the schedule:

"I have been guiding on Minnetonka for over 15 years now, however, I leave the lake to fish cooler northern waters this time of year. Increased stress and delayed mortality is a serious concern in warm water. I cancel my guide trips (and lose money) when water temps reach 80 degrees.

"There's been a big push to increase musky stocking here in the Metro, without much success. That means taking care of the fish we DO have is more important than ever."

We'll leave ya with this incredible stat from Mr. Gord Pyzer:

"If we could reduce the handling mortality of big muskies by only four percent, we would increase the muskie population by a staggering 70-percent."

We'll dig into the math/science behind those numbers in a future newsletter.
---
How to Win Musky Tournaments
Since we're on the topic of tourney fishing, thought we'd actually be helpful and share some pointers on the topic.

While you won't see him in the standings anymore, Josh has some impressive tournament accolades including a PMTT World Championship and a Top Gun title. Here's a few of his thoughts on fishing these events: 
SHARING FISH
"You need to make a decision not just based on the fish, but also based on your competitors – that's one of the biggest challenges. The best spot on the lake is no longer the best option if it's going to be saturated with boats on gameday. Sure, it might kick out more fish than any other spot, but those fish will be divided between more boats. (They might make the leaderboard, but probably won't win the event.)"
LINE OF SIGHT
"Once I find key spots (while pre-fishing) where I could potentially win the tournament, I try to fish anything that looks good within sight lines of those spots (if possible). This allows me to monitor how much pressure my other spots are receiving and if somebody else caught my fish."
PATTERNS > SPOTS
"Keep in mind, a good pattern usually beats a good spot – especially when you're fishing against a large field of anglers. That's why locals don't usually dominate these events.

"Local guides might know MORE spots than anyone else, but through pure attrition, a large field of anglers will likely find all or most of them by tournament day. You might be the only one to know ALL the spots, but collectively the group cancels out your advantage.

"Anglers without hundreds of GPS coordinates are forced to hunt for the pattern, and the team that refines the pattern furthest usually wins. For example, many groups might figure out deep weed points are holding the most active fish, but the team that wins is the one that takes it a step further and notices the BEST spots are the tip sections of deep weed points that face west in mid-lake basins."
CONFIDENCE
"It sounds crazy, but sometimes what matters more than anything is having the belief that you're going to win. I've won two different tournaments where the conditions were so tough that we were the only team to catch in the event. I think maybe we just believed we were going to catch 'em a little bit more than everyone else, and so we did."
---
Rare plus-sized silver pike
To be completely honest, we didn't know much about silver pike until we saw this one from Scott Kieper.

Apparently this is a pretty dang nice one:
The silvers aren't technically a sub-species of esox, but a mutant northern pike of sorts. The biggest we found digging around on the interwebz were just under 50 inches – so they get bigger than this one.

Overall, silver pike are very rare, but sounds like they are more common on certain lakes. For example, the Iowa DNR claims 19% of the pike population in Spirit Lake is silvers.

Not sure how they pulled it off, but here's a sweet shot of northern pike in a spotted, striped and silver variety:
The Iowa DNR actually stocks all three strains in different water bodies throughout the state. The three above must be stockers *doh!*
---
Mid-Summer Meme Dump!
Nothing beats a good pile of musky memes – here's a few of our favorites from the past week or so.
Lake of the Woods has been en fuego 🔥 this past month. Our buddy Doug Wegner boated 79 muskies in 27 days this July. Hands down, one of the best musky fisheries on the planet.

Saw this clip on Facebook and had to make it into a meme....
Honestly, this pretty much applies to all species on LOTW.

Wanted to save this one until show season, but thought I'd drop it here so you can start thinkin' about excuses ahead of time. 😂
When your best bud posts pictures of your big muskies on social media and you pull into the boat ramp the next day:
---
QUICK HITTERS:
 – MuskyFrenzy's website re-stocked (link)
 – WI Musky Clubs Alliance creates endowment fund (link)

 – McMahon's Western MN Musky Outing – Sept. 27-29 (link)

 – New bar in Madison (WI) named the "Muskellounge" (link)

 – Possible musky/pike ankle-biter in Fox Lake, WI (photo)

 – Tip: Coming back & catching followers w/ Keyes (video)

 – New Odd'Ball Brute explained (video)
---
THIS WEEK'S
LUNAR TIMES

:
(Times based on Minneapolis)
---
---
THIS WEEK'S

 MONSTER MUSKIES:
How do you say BEAST in French because this 55" mega-giant hit the net in French Canadian waters! Special thanks to Christopher Devos for posting the sick shot.
Here's one of those aforementioned 79 July muskies from Doug Wegner on LOTW. This one wolfed Kris Alexander's 8/9 Stagger bucktail at boatside. #figure8
Raise your hand if your first musky was over 50-inches ✋ *crickets*

Mark Ranft was lucky enough to join the rare club when this hawg crushed his topwater in 2ft of water fishing with HOF guide Peter Levick.
Everyone knows there's monsters swimmin' in Eagle Lake and this is yet another reminder! Guy Markus hooked up with well-known guide Cal Ritchie and hooked up with a fish of a lifetime; a bonafide 55!
---
Want to see more from Musky Insider? Make sure to follow us on Facebook and Instagram for bonus content throughout the week!
---