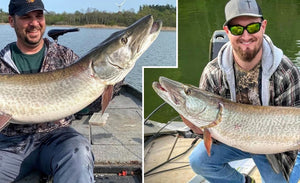 Under-looked Handling Tip – New Musky Rods – 10 Graphs on a Boat
Be the FIRST to see Musky Insider every week by signing up for the email version of this newsletter. It's 100% free and we will never sell your email address! Click here to sign up and never miss another issue.
---
---
Geeeez
With Father's Day a month away, a few of you are probably confronted with the age old question: What do you get a fisherman who already has everything??
Well, unless your dad's boat looks like this, he doesn't have "everything".... 😂
Saw this setup in a video from @yourlakeforkguide who was just as blown away as we are.... he counted a total of 10 graphs on the boat.
Imagine how many batteries he must need to power this floating movie theater 😅
Best comments on the post:
"All that to get beat by two kids in a jon boat"
"I'd sell the units and buy another boat 😂"
"He probably blames the boat next to him when he gets interference..."
Folks might give him a hard time, but buying graphs has been a much better financial decision than holding stocks/crypto lately.... Yep, we went there!
---
Optimal Net Placement
One of the biggest keys to successful catch-and-release is all the stuff that happens while the fish is chillin' in the bag.
Lots and LOTS to consider here.... but one thing folks rarely discuss is where you position the net when you're working on a fish.
And if you're new here, it's NOT on the floor of your boat 😅
Here's Josh Borovsky's two cents:
"Unless you have a very shallow bass boat, I would encourage you to work on fish in the rear section of your boat especially if you are running a deep V style boat.
"This part of the boat sits lowest in the water and eliminates a lot of issues that can happen up front that are detrimental to the survival of the fish. If a fish is hooked at the top of the bag, you can still keep its head underwater when you're working in the back – same deal if it gets wrapped up (which is more likely to happen in the front).
"Also, if you are in any kind of waves, it's way easier to work on and reach the fish in the rear section of the boat, keeping them submerged instead of bobbing in and out of water.
"On models like the Ranger 619 and 620 (especially newer ones), if you lay on your stomach and reach down toward the water from the bow, it's a really long reach to get to the surface of water. But in the back of the boat, you are very close."
We might do a video or a longer post on this in the future – optimal handling is TOOO dang important.... we gotta help spread the word.
---
Slo-Mo Leaper
The two best musky fishin' clips are:
Boatside figure-8 strikes

Slo-mo headshakes/jumps
Gotta give a big shoutout to Mathieu Carriere for capturing this exta-sweet slo-mo thrashing leap – one of the better one's we've seen this year:
The souped-up 'skie made an unsuccessful last-ditch effort to escape before getting scooped by the net – love to see it! #KindaStressfulThough
---
This Week's Mashup:
Mashup time!
#1 – Killer snout-first photo from Ben Fisher 🔥
#2 – Looks like Musky Innovations is coming out with fresh new Bull Dawg Pro Series rods. A few deets:
8'6" to 9'6" lengths

H, XH, XXH and XXXH powers

Telescoping down to less than 8 feet


18" handles

Polished stainless steel guides


tTech microweave™ graphite blank
There's more info on their website if you wanna check 'em out 👍
#3 – Totally diggin' this close-up headshot from Brett Poffenberger who was fly slingin' on the Potomac River in Maryland.
#4 – Check out the wild colors on these bluegill imitators from Mark Burns:
---
QUICK HITTERS:
– Cold front musky fishing w/ Doug Wegner (video)
– Trolling motor maintenance checklist (video)
– Post spawn musky action w/ Kanal Gratis (video)
– Iowa spring musky fishing w/ Angling Anarchy (video)
– Tips for musky trollin' on Supernaturals w/ Musky Shop (video)
– Fly musky fishin' chat w/ Sippin' the Dry (video)
---
---
THIS WEEK'S

 MONSTER MUSKIES:
Feast your eyes on this massive Virginia musky from Ryan Painter – 51 inches with some bonus pudge! Congrats dude 👍
Check out this plump plus-sized musky from @team200tv 👀
Gorgeous fish from Colin Greene in Ohio – lovin' that blue/green hue 🔥
Wanna be featured in Musky Insider? Send in your recent trophy musky photos by replying to this email. You might just see your pic in next week's newsletter. 🤙
---
---
Want to see more from Musky Insider? Make sure to follow us on Facebook and Instagram for bonus content throughout the week!
Send all business inquiries to josh@muskyinsider.com
---