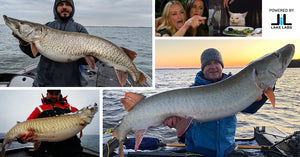 Underwater STRIKE – Unique New Tourney – Meme dump!
Be the FIRST to see Musky Insider every week by signing up for the email version of this newsletter. It's 100% free and we will never sell your email address! Click here to sign up and never miss another issue.
---
---
Underwater Tip-Up Strike!
Let's kick things off with some wicked underwater footage from Riley Simmons, tip-up fishing 'skies in Yooper Country.
No surprise, this one goes for the head-first grab:
Strikes are always awesome, but some of the fight footage was pretty sweet, too.
You can watch the rest of the video on Riley's YouTube channel.
Ice fishing for muskies can get a little controversial, but where it's legal, guys and gals are gonna do it.
Just remember to use EXTRA care if you hookup with a 'skie under the ice. Kinda like mid-summer: unhook and release as quickly possible.
---
Boat/Trailer Winterization
December is the most wonderful busiest time of year with the holidays.
....and the last thing you want to worry about is prepping for next season and winterizing your boat.
Here's a quick checklist to make the process a little easier this year:
Step #1 

– Clean out boat and take inventory of anything that needs to be fixed.

Step #2 

– Clean & vacuum carpets

Step #3 

– Clean stinky livewell (try baking soda mixed w/ hot water)

Step #4 –

 Clean out bilges using a professional bilge cleaner

Step #5 

– Clean exterior surfaces, motor, trailer, etc.

Step #6

 – Remove the boat plug and make sure the bow is higher than the stern.
Now that you've got some of the main stuff cleaned up, it's time to get the electronics dialed in so everything's working smoothly next spring.
Step #7 

– Clean battery terminal w/ wire brush (water/baking soda)

Step #8 – Make sure batteries are fully charged (check 'em each month to make sure they are holding a charge)
Step #9 

– Check connectors, bulbs and hoses for leaks or signs of wear
Last but not least is motor maintenance: 
Step #10 

– Add stabilizer to the fuel tank

Step #11 

– Make sure the tanks are close to full to help illuminate any moisture buildup over the winter

Step #12 

– Change the fuel filter and water separator

Step #13 

– Attach a motor flusher (muffs) to your garden hose. Let motor idle for 15 minutes with the water running.

Step #14 – Spray fogging oil thro

ugh the carbs until smoke appears and kills the motor
There's a few more items you'll wanna take care of, but we're getting a little long-winded already, so take a look at this guide to help fill in the gaps.
And here's a PSHHH from all the southern musky guys who get to fish in their boat all winter long:
---
Unique Musky Tourney
Most tournaments are basically the same – show up to the lake on time and fish till the bell rings. The format has been mostly the same for half a century.
Anytime someone tries to rock the boat, we pay attention....
We just came across a new series from Musky Addicts called the MN State Musky League. It's a really cool concept – definitely not traditional...
Here's the skinny:
The state is broken down into 3 regions: East, West and South (see map)

The league starts June 7th. Each week, you and your partner will have 8 hours (one day) to fish one of the specified tournament lakes/rivers. The fisheries will change every week, and you get to pick which day of the week to fish.
At the end of the season, the top 5 teams from each region and 3 wild card teams will face off in the "state championship" on a predetermined lake.
...and the entire event is scored on your smartphone. It's a $100 buy-in with $5,000 going to first place. Worth checking out if you live/fish in Minnesota.
Another nice bonus: 10% of all entry fees will go toward stocking
---
Musky Meme Dump!
Once again, it's time for a good ole fashion musky meme drop! 
First up, something for your fishin' buddies who are a little generous with their length guesstimates.
Nobody said musky fishin' was cheap! But that doesn't stop us from spending our hard-earned cash (or credit card balance?) on a custom colored crankbait we'll never use.
Saw this meme from Jeff Contreras and thought: Man, this guy's got a bigger budget than me...😂
We wouldn't be memeing in 2019 if we didn't include a crazy lady/cat meme.
With musky show season just around the corner, you'll need to make some room in your portfolio for a few more investment assets. 😉
---
QUICK HITTERS:
– Wisconsin musky management 101 (video)
– Lake of the Woods Muskies w/ Water & Woods (video)
– Late fall Lac Seul musky fishing (video)
– "Scientists say fresh water under threat" (link)
– Pyzer: Bondy musky bait fishing (link)
---
THIS WEEK'S

 

LUNAR TIMES:
(Times based on Minneapolis)
---

---
THIS WEEK'S

 MONSTER MUSKIES:
There's still some excellent north-of-the-border muskies to be caught this season in eastern Canada – like this 56 inch Headlock-eater from Mike Chisamore and guide Mike Thorpe. Makes fishin' in -20C wind chills 110% worth it!
Congrats to Mike Mollo Jr. on boating his first 50+ incher. This potbelly was part of a two musky day on Lake St. Clair, both fish measured 51 inches with hefty guts!
This portly porker from Dominic Papineau hit 56x26 with some bonus December snow, to boot!
Wide load coming through! Todd stuck this 52-inch tub of lard up on Eagle Lake in Ontario. #FatAndSassy
Wanna be featured on Musky Insider? Send in your recent trophy musky photos by emailing nick@muskyinsider.com – you might just see your pic in next week's newsletter. 🤙
---
---
Want to see more from Musky Insider? Make sure to follow us on Facebook and Instagram for bonus content throughout the week!
---