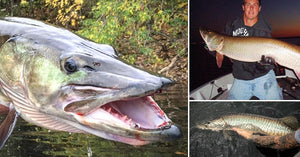 Well-Executed Fishing Prank – 3 Hour Lurker – Abominable Esox
Be the FIRST to see Musky Insider every week by signing up for the email version of this newsletter. It's 100% free and we will never sell your email address! Click here to sign up and never miss another issue.
---
---
Exposing the Lurkers
It wasn't too long ago when anglers could only see right below their boats....
Nowadays, the new tech lets you see any which way you choose, which can be both awesome and frustrating at the same time 😂
Example: WI guide Michael Hanson sent us this sweet Livescope clip of a curious musky inspecting a bait:
The live viewing stuff is awesome because you get to see exactly where they are and what they are doing. It's frustrating because more often than not, you get to watch them NOT bite your bait.
Not only didn't this big red blob lunch their offering, but she had the audacity to hang around for almost 3 hours! #level10lurker
Now that's frustrating! 🤬
Another cool thing about live is you get to see the exact size of the specimen you're dealing with (assuming they line-up properly with the transducer):
---
Trollin' Bucktail Tips
Bucktail trollin' is an underrated tactic.... It straight-up catches muskies, but it also comes with some challenges:
#1 – You'll collect debris on your lure as you troll.
#2 – Your line will twist-up like crazy.
This video from John Bette at Stealth Tackle addresses both of those concerns with some simple terminal tackle quick-fixes:
John definitely gets bonus points for simplicity! 👍
And if you want to know the EXACT components John uses, you can check the following links: Swivels – Split Rings – Trolling Keel Weights
Thanks for the info, John!
---
He's Got Jokes
When it comes to fishin' pranks, it's tough to beat the tap-the-rod-butt trick.
.... and Brian Skaife (Angling Anarchy) played it perfectly here:
Seems like most of the best fishin' pranks happen when your buddy is asleep.... tying their shoelaces together, pretending you're hooked up, etc.
Send us a few of your favorite prank ideas and if we get enough good ones, we'll share 'em in a future newsletter!
---
This Week's Mashup:
Mashup time!
#1 – Speaking of pranks....
#2 – Lovin' this gorgeous green headshot from @mnflytoolco.
#3 – Not sure if this wild lookin' Esox from @drlimestone is the product of the zombie apocalypse or a not-so-distant cousin of the Abominable Snowman. 😉 #AbominableEsoxApocalypse
#4 – Incredible musky-themed piece from angler/artist Garrison Doctor 😍 Looks like the original is still for sale on his site. 👀
---
QUICK HITTERS:
– Flowage adventure part 2 w/ Keyes Outdoors (video)
– Minnesota musky catchin' w/ Doug Wegner (video)
– Our favorite Musky Mayhem pro-staff profile so far, Mika Hoppe (video)
– Northwoods musky fishing w/ Fishcamp (video)
– Big topwater musky w/ Joe Bucher (video)
– Suick Lure Co. in the local news (video)
– WI DNR angler recruitment grants (link)
---
---
THIS WEEK'S

 MONSTER MUSKIES:
These old throwback photos are always awesome – this one was shared by Kevin Cochran featuring Josh Karch hoisting a turn-of-the-century 54 incher.
A lot has changed since the Minnesota Heyday, but there are still monsters out there if you're willing to put in the work to find/catch 'em!
This big hardwater 'skie has been eatin' good in the neighborhood!
Christopher Kneiser was forced to hand-land her after the line snapped on his buddy Tyler Wickstrom's walleye rod. #GetTheNet!😉
Who has the better "markings", the tiger musky or Justin Richter's sleeve??
Also, anyone else miss t-shirt weather?? 🙋‍♂️
Wanna be featured in Musky Insider? Send in your recent trophy musky photos by replying to this email. You might just see your pic in next week's newsletter. 🤙
---
---
Want to see more from Musky Insider? Make sure to follow us on Facebook and Instagram for bonus content throughout the week!
Send all business inquiries to josh@muskyinsider.com
---