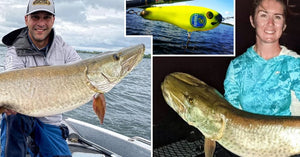 What happened to Vermilion – Science Behind 2-toners – Underwaters of Supernaturals
Be the FIRST to see Musky Insider every week by signing up for the email version of this newsletter. It's 100% free and we will never sell your email address! Click here to sign up and never miss another issue.
---
---
Lake Vermilion.... What Happened?
If you're after HUGE muskies, Lake Vermilion is still one of the best places to catch the biggest, longest fish in the state.
In fact, the two 57.25 inchers that co-own the MN catch-and-release record were caught on Vermilion, both within the past two years:
That said, the musky population and angler catch-rates aren't nearly what they used to be during the late 2000's heyday.
So, what happened?
Vermilion guide Josh Borovsky and Nolan Reba break down the stats in this video:
There's some interesting info/data shared – kind of similar to the Mille Lacs deal....
There are still fish to be caught (and big ones) if you're a skilled angler, but it's not "easy" like it used to be. Pressure plays a part, but it's not the only reason.
---
Supernaturals Underwater
It's always cool to see folks doing things "differently" in the musky content world.
Props to 54 or Bust on putting together this sweet video showing some underwater views of the Headlock, Mattlock and Liplock:
Here's a couple clips of the 12" Headlock featured in the video:
First, the underwater shot:
There's a reason these baits are so popular – the action is crazy good! Also, the metal lip gives off a ton of flash at this angle. 
You can really see the wandering action with the overhead view:
Killer footage!
Btw, Thorne Bros has some sweet custom colors that are still available including some killer fall colors: Mother of Pearl (left) and Rough Rocks Revenge (right)
---
Theories Behind Two-Toners
As most of you know, we LOVE us some two-toned Esox....
So when Gord Pyzer writes an article on the topic, you know we're gonna check it out and share it here in the newsletter 🔥
He reached out to a couple of his biologist buddies to get their take on the phenomena – starting with Dr. John Casselman (Queen's University): 
"I've done a lot of electrofishing and have noticed that shocked fish will often change colour patterns. I think it is something that changes the neurological response associated with melanophores.
"I've always considered this to be associated with neurological damage, which in the case of electrofishing can be either temporary or permanent, depending upon the extent of the damage."
John even has a cool anecdotal story to match:
"Many years ago, when I was rearing pike under controlled conditions, studying growth for my doctorate, I grew some fairly large pike. I weighed and measured them every month, studying growth in relation to temperature.
"I remember vividly dropping one pike that was about 40 centimetres long, which had a very normal dark matrix with a white spot coloration. When the fish hit the floor it didn't appear to be damaged but then I immediately realized it had turned almost colourless, yellowish-white, much like the pike you and Liam caught (photo above).
"The following day it had returned to its typical dark-light spotted pattern.
"Given that the light colour pattern is appearing in the anterior, I am wondering if it's related to some trauma associated with hooking in these angled fish."
Very interesting! Here's the two-toners from one of our newsletter a few weeks ago:
And here's some insight from Sean Landsman (Carleton University):
"Pigmentation and the movement of chromatophores around the body is under the control of both the endocrine and nervous systems. So a breakdown in either or both systems—via stress or a developmental abnormality—could result in patterning like this, such that it becomes a permanent fixture of these individuals."
Interesting.... something to think about!
---
This Week's Mashup
Mashup time!
#1 – Muskies don't just rule the lake.... they rule the sky, too!
Cool shot from Brent Breitenfeld in northwest Wisconsin:
#2 – Not something you see everyday (unless you're a taxidermist 😂)....
That's a replica of someone's prized catch just a few moments before Joshua Hussey colored her up:
#3 – The perfect bait for when you're fishin' with your extra-superstitious fishin' partner.... just to get on his/her nerves! 😂
#4 – I gotta get one of these for the man cave – just don't forget to turn off the clicker, especially when you've got buddies over.... or you'll never hear the end of it!
---
QUICK HITTERS:
– PMTT Championship on the Chip this weekend (link)
– Georgian Bay breakdown on Ugly Pike Podcast (link)
– Clearwater topwater fishing w/ Todays Angler (video)
– Transition musky fishing w/ Burnin' Eights (video)
– Chasin' southern 'skies w/ Blue Ridge Musky (video)
– Leech Lake musky chasin' w/ Leisure Outdoors (video)
– Maina & Gillespie fishin' in Minnesota (video)
---
---
THIS WEEK'S

 MONSTER MUSKIES:
Big congrats to Emilie Roussel on bustin' her new PB  🎉 fishin' the big September full moon a few days ago #shovelhead
Mike Wagner stuck this big MN beauty castin'-and-windin' a Double Showgirl, fishin' outta Matt Seifert's boat.
Congrats to Johnny Lane on joining the coveted "50 Club" with this gorgeous Great Lakes 52-incher!
Check out this big bodied Green Bay bruiser caught casting by Bob Parteka:
Thanks for sending, Bob!
Wanna be featured in Musky Insider? Send in your recent trophy musky photos by replying to this email. You might just see your pic in next week's newsletter. 🤙
---
---
Want to see more from Musky Insider? Make sure to follow us on Facebook and Instagram for bonus content throughout the week!
Send all business inquiries to josh@muskyinsider.com
---