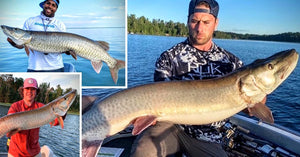 Why Musky Fishing Isn't ''Healthy'' – Fish GIF Olympics – A Pro-Musky Politician?
Be the FIRST to see Musky Insider every week by signing up for the email version of this newsletter. It's 100% free and we will never sell your email address! Click here to sign up and never miss another issue.
---
---
Is Musky Fishing Healthy?
I guess it depends on your definition of "healthy"....
We just stumbled upon an article titled: 14 Health Benefits of Fishing
Most of the benefits make sense if you're bobber fishin' for panfish, but here's a few that are slightly less true if you're a musky angler:
#2 – Fishing Can Promote Social Bonding
This might be true when the fish are biting, but what about when you fish all weekend without a single follow? Also, there probably wasn't much "social bonding" after this highly questionable net job 😉
#8 – Reduces Screen Time
I know what they're trying to do here, but obviously the author has never heard of Side-Imaging....
.... and that's FAR from the craziest electronics setup we've seen.
#9 – Nature Can Lower Blood Pressure
Nature? Sure.
Musky fishing? Uhhh, not so much.... (Sorry Louie)
Losing a big musky at boatside is enough to make a preacher cuss like a sailer!
There were a few more potential jokes in there, but we'll leave it at that for now. 😂
---
Our Favorite Throwback
Looking for a little midweek pick-me-up?
This video is half a decade old, but it's still one of our all-time favorites:
Not sure what inspired the YouTube algorithm to throw this gem into our suggestions in 2020, but we're glad they did.
Who doesn't enjoy watching an 8 year old catch a 57 inch mammoth musky??
The only one not impressed is this miserable hound:
---
The Fish Olympics
We're still 373 days away from the 2021 Olympics, but.... it's never too early to start training!
These three 'skies are hard at work, preparing for the "high jump" event next year.
This little river runner is lean & mean with plenty of spunk, and he wants nothing to do with that scoopin' net! (🎥 - @brooksboysoutdoors)
This big girl from Joe Bucher might be a little too heavy for the high jump, but she'd dominate the women's weight lifting division. #horse
This high-flyin' crankbait-muchin' musky caught some serious air, threw the bait, and stuck the landing.... directly in Musky Addict's net.
These 'skies have some impressive hops, but I'm not sure any of them have what it takes to challenge the heavily favored #TeamTarpon 💪
---
A Pro-Musky Politician?
The last thing we want to do in this newsletter is get political, but with all the anti-musky nonsense that happens every year in Minnesota, it's nice to see a musky-friendly candidate throwing his hat in the ring.
I know Doug Malson is fed up with all the silliness, and I'm guessin' it's probably part of the reason why he's running for the House of Reps in MN.
This is NOT an endorsement (we're not getting into that game), but we thought it was pretty dang cool to see a hardcore musky-head trying to get into office.
There needs to be candidates from BOTH parties that will protect our resources and defend our right to freely access public waters (another HUGE topic right now in MN).
There's a lot of bad information out there about muskies, and we need to make sure the bad eggs don't ruin everything we've worked to achieve.
Not sure how or why we have "anti-musky" politicians, but it needs to stop!
---
QUICK HITTERS:
– River Fishing Topwater Action w/ Todays Angler (video)
– Throwback: John Gillespie's first 50 incher (video)
– Detroit River vertical jigging with underwater camera (video)
– River muskies on the fly (video)
– Kentucky stream fishin' for musky (video)
– A story about a musky trip to New Jersey (link)
---

---
THIS WEEK'S MONSTER MUSKIES:
First outta the gate, check out the belly on this 54 inch jumbo-sized sea serpent from Jordan Vlietstra! #girth
Next up, we've got a Minnesota monster from Mike Dazzo fishin' with guide Matt Seifert – this big bodied freak of nature is every bit of 54.25 inches.
Props to Cam Conati on thwacking this impressive finned anaconda at last light!
Last on the list is a large, clean and mean eastern Canadian giant from Christopher Devos, who's been known to put a few bigguns topside fishin' the Quebec area.
Wanna be featured on Musky Insider? Send in your recent trophy musky photos by replying to this email. You might just see your pic in next week's newsletter. 🤙
---
---
Want to see more from Musky Insider? Make sure to follow us on Facebook and Instagram for bonus content throughout the week!
Send all business inquiries to josh@muskyinsider.com
---