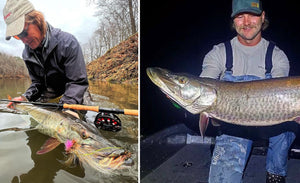 Wintertime Muskies – Musky Barrage on Big V – Big Fish Holds
Be the FIRST to see Musky Insider every week by signing up for the email version of this newsletter. It's 100% free and we will never sell your email address! Click here to sign up and never miss another issue.
---
---
Wintertime Musky Views
Let's kick those Winter Blues!
Here's a few wintertime musky encounters that will help get you excited for the upcoming musky season.
Now that I think about it, this might actually make your Winter Blues worse?? 😂
Sorry!
Okay, first up we have an awesome underwater interaction from FishingwithBen who was walleye fishing on a sand flat:
This big gal decided to scoot underneath Winnesotafishing's pike spearing hole – what an awesome view of a beast of a 'skie:
This Wisconsin porker decided to do a drive-by as Nick Lindner was taking a short break from panfish jiggin':
Alex Timm thought he was hooked up with a plus-sized hardwater pike when this beauty grabbed his tungsten panfish jig:
Now that you know what the muskies are doing during their "off-season", you can go back to shoveling your driveway and praying for spring 😂
---
Speaking of Winter....
What is your favorite way to pass the cold wintertime months??
(This question isn't for our southern musky fishing friends because they.... can actually fish for muskies!)
Some folks like ice fishing.... 🤷‍♂️
There are plenty of walleye/panfish anglers reading this newsletter, but it seems like the favorite hardwater species for most of our musky buddies are either big pike, burbot or lake trout.... in other words, fish that actually fight 😂
Doug Wegner has been crackin' some gorgeous lakers this winter and dropping some of the footage on YouTube:
The other two options we see hardcore musky-heads doing during the long off-season is either traveling south and chasing salty species (especially tarpon) or just bundling up and hibernating in their basement 😂
What's your go-to winter strategy?? Vote below by clicking the links:
---
Big Tourney Year
There are more big $$ musky tournaments happening this year than we've seen in quite a while....
Three different tourney organizations are paying 20K or more for 1st place 🏆
The new MN Muskie Trail is going to Cass (July 28-29), Vermilion (Aug. 25-26), and Leech (Sept. 22-23). First place in each of these events (with a full 75 boat field) is $20,000. They're also paying out $15k to Team of the Year 👀
PMTT is paying $25k for first place in all three of their qualifying event. Cave Run (Apr. 29-30), Madison Chain (June 10-11), and Vermilion (Aug. 18-19).
There's also going to be a TFC Muskie Classic on Vermilion this year (Sept. 7-10) that pays out $40,000 to first place 🥇 (70 boats w/ $2k entry).
Anyone notice a common denominator with this circuits??
Vermilion muskies will start the season dodging Livescope beams in open water, then get three big tourneys from Aug. 18 to Sept. 10.
They're going to look like this all season 😂
---
This Week's Mashup:
Mashup time!
#1 – How insane is this musky "mount" that was shared by Steven James Rusteberg?? #need
#2 – Check out this awesome freeze-frame action shot from Todd Schulz (Musky Moon Outdoors) #TigerTime
#3 – Beautiful southern musky from @eaglenestflyshack fishin' with @blueridgemusky in Virginia:
#4 – Love the play-on-words on this sweet bar sign sent in by Keith Edberg. It was made by his granddaughter Easton for her uncle Hunter Edberg:
---
QUICK HITTERS:
– NY Musky Expo happening Feb. 4-5 (link)
– Todays Angler season recap (video)
– Shallow weed musky fishing w/ MHTV (video)
– "Off the Beaten Path Musky River" w/ Keyes (video)
– 2nd shift musky fishing w/ Mayhem's 10k Casts (video)
– Fall musky catch w/ Marc-André Paquette (video)
– Painting up a Jake crankbait (video)
---
---
THIS WEEK'S

 MONSTER MUSKIES:
Gotta give Darian Rubner some props for committing to wearing Swiss cheese shoes, even when the June mosquito hatch is in full bloom. Nice fish, too! 😉
Absolutely insane paint job on this sucker muchin' tiger musky from Andy, fishin' with guide Noah Humfeld:
Awesome river musky from @deepsouthflyshop (fishin' with Matt Reilly), one of many takers from a recent fly flingin' trip:
Wanna be featured in Musky Insider? Send in your recent trophy musky photos by replying to this email. You might just see your pic in next week's newsletter. 🤙
---
---
Want to see more from Musky Insider? Make sure to follow us on Facebook and Instagram for bonus content throughout the week!
Send all business inquiries to josh@muskyinsider.com
---