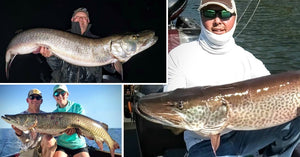 56.5'' Monster – DIY Bait Storage – Seifert Tip – Mille Lacs Update
Be the FIRST to see Musky Insider every week by signing up for the email version of this newsletter. It's 100% free and we will never sell your email address! Click here to sign up and never miss another issue.
---
---
Matt Seifert's Report
Someone better remind Mother Nature that it's not August yet....geez!
Weather and water temps have been WAYYY ahead of schedule, but how has that impacted the musky bite over the past week??
We reached out to Minnesota guide Matt Seifert to get his two cents – here's what he's been seeing:
"It's been a pretty typical opening week of muskie fishing so far. There was a lot of talk, me included, saying and hoping that the fishing would be 2 to 3 weeks ahead of schedule this spring. From what I've seen, water temps are ahead of schedule but the fish seem to be on schedule or just one week ahead.
"This week most of the fish have been in their normal post spawn locations. I have seen a few fish in the open water, but most have been in shallow weeds. Most of the fish we have contacted have been moving on low riding walk-the-dog baits, gliders, jerkbaits, and the Musky Mayhem Trigger or DS4 (pictured).
"In the next two weeks, with the rising water temps, you will see fish starting to slide out to deeper weed edges in the open water. There have also been some small bug hatches starting the last two nights, so the open water bite could get hot-and-heavy pretty quick here.
"This week I will be casting structure mostly, but will be checking the open water twice a day with my electronics to keep tabs on the numbers out there. I believe by next week there will be a large number of fish in the open water.
"Once the open water bite starts, my favorite baits for that are trolling Supernatural Big Baits and casting Beavers, Lake X Toads, and bigger jerkbaits."
Special thanks to Matt for sharing the up-to-date report!
Also – just a reminder that he will be one of the instructors at this year's MN Musky School outta Agency Bay Lodge this year. That's gonna be a killer event 🔥
---
DIY Bait Storage
Running outta wall space to hang your musky lures?
Check out this slick DIY system from TC Jack:
In theory, using a "cabinet" system like this could double the amount of storage space you have on the wall.
I could also envision having a bunch of these in the garage/basement, labeled for different bait categories:
Looks like I found a project for this winter!
---
Mille Lacs Follow-Up
A few weeks back, we shared Josh Borovsky's video on what happened to Mille Lacs Lake and why it's no longer the musky factory it was back in it's heyday.
Well, we've finally got a follow-up video on the topic. 👍
Josh gathered a group of former Mille Lacs commandos to talk about their experience on the lake.... watching it rise to greatness, and then crash to not-so-great-ness:
Starting at the top-left and going clockwise around the screen we have Gregg Thomas, Josh Borovsky, Luke Ronnestrand, and Lee Tauchen.
From the video description:
"They tell their stories, including highlights from some of their best days on the water when the lake was at its best.... along with what is was like to be there when the bite died and they were forced to leave the lake they had committed their lives to.... and the economic impact on the area and how other fisheries were effected."
Definitely worth a watch, especially if you're interested in the Big Pond, it's history, and how it's "demise" has caused a ripple effect across the region.
---
Actions GIFs
Time for some musky fishin' action GIFs!
Let's start off with a sweet topwater blow-up from NDYakAngler.
Those up-close-and-personal strikes gotta be extra exciting when you're sitting inches from the water...
I get goosebumps just watchin' the GIF version of this vicious head shake from Jesse Schulta's boatside 'skie:
Sometimes it's the three-footers that give you the most trouble at the net. This little bugger evaded Matt Vavroch's net job and came unpinned moments later:
---
QUICK HITTERS:
– MN Metro Muskie Tournament this weekend, June 12th (link)
– Sight fishing 'skies w/ Blue Ridge Musky (video)
– More Indiana musky action from Todays Angler (video)
– Northern WI musky fishin' w/ Angling Anarchy (video)
– "Always Repair Before Continuing to Fish" w/ Joe Bucher (video)
– Michigan musky catchin' w/ Big John (video)
– DIY modification to make your net float (video)
---
---
THIS WEEK'S

 MONSTER MUSKIES:
Congrats to Brian Reinke on bustin' his new PB musky fishin' on Green Bay.
We actually shared a 54 incher from Brian in last week's newsletter, but he topped that big girl with this 56.5 inch monster!
Dave Selle kicked off the 2021 MN musky season with this big bodied bruiser – 55.5 inches of night fishin' goodness!
Congrats to Ryan Huebner on putting this big, beat-up beauty in the net!
Lauren Preston didn't have to wait long to catch this chunky post-spawner. It smashed her bucktail right next to the boat just five casts into the day 🔥
Wanna be featured on Musky Insider? Send in your recent trophy musky photos by replying to this email. You might just see your pic in next week's newsletter. 🤙
---
---
Want to see more from Musky Insider? Make sure to follow us on Facebook and Instagram for bonus content throughout the week!
Send all business inquiries to josh@muskyinsider.com
---