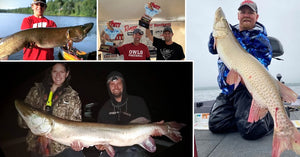 57'' Monster 'skie – Bad Developments in MN? – How Sennett Won
Be the FIRST to see Musky Insider every week by signing up for the email version of this newsletter. It's 100% free and we will never sell your email address! Click here to sign up and never miss another issue.
---
---
PMTT Recap
Big congrats to Ty and Tait Sennett on taking down 1st place 🥇 and a $17,000+ payday last weekend at the Bemidji/Cass PMTT qualifying event:
Here's a super quick rundown on how they caught 'em:
"We were throwing Musky Mayhem baits and burnin' the crap out of them – reeling until your arms hurt... and then go faster. Dark colors with nickel and copper blades.
"We did horrible pre-fishing, but did find some on Side Imaging and those were the only fish we had to double-back on during the event."
Obviously, game day went a lot better than practice!
There were 61 total fish caught including a few nice ones. Big fish honors went to Brad Swenson & Jake Willborg with this hefty 51.5 incher 💪
The next PMTT is coming up soon – September 24-26th – on the Chippewa Flowage (Ty Sennett's home waters 👀).
---
Musky Artwork
How sweet is this decal from master fish-artist Matthew Stockton???
Funny to think that back in the day, we used to turn on our TVs and watch a dude with a huge afro make "happy little mistakes" on an easel. 😂
Anyway, here's some more musky artwork you'll probably like:
First up, we've got a big, bold Esox eyeball hangin' up on Larry "The Legend" Ramsell's wall.
I'm still trying to wrap my head around this one....
Gotta hand it to Seany Blaze for some serious creativity!
Here's another one from Matthew Stockton – that's one mean lookin' cabbage dragon!
Really diggin' this wood wall hanger from Joseph Timmers – perfect man cave material right there!
---
DNR Changes Coming?
Something to keep an eye on if you like fishing in Minnesota and follow the resource management side of things....
If you've flipped through the Outdoor News recently, you might have read this article from Henry Drewes, a fisheries manager in MN who retired this year.
He spent some time talking about the successes of the DNR during his tenure, but ended the writeup with some possibly concerning stuff....
"Minnesota hunters and anglers want and expect the DNR to hire the very best personnel and provide field offices with the resources they need to get the work done. Recent and planned closures/mergers of wildlife offices in Bemidji, International Falls, Glenwood, Crookston and Baudette in the absence of public engagement or disclosure is a particularly troubling trend.
"Division of Fish and Wildlife leadership is also considering merging fisheries and wildlife manager positions in the regions and the central office (Habitat, Research and Operations).
"These "ideas" as they have been referred to, will result in diminished services to hunters and anglers, and blur the lines of management and funding accountability. Particularly troubling is the absence of staff and constituent participation in these discussions. I encourage conservation organizations to get involved."
Not sure how this will play out or what kind of impact it will have, but it's worth monitoring and reaching out to people like Dave Oldfelt (dave.olfelt@state.mn.us) or Sarah Strommen (sarah.strommen@state.mn.us) if you have any thoughts on the topic.
---
This Week's Mashup:
Mashup time!
#1 – How sweet is this boatside high-jump from the latest Burnin' Eights vid??
Not gonna lie, those guys get some of the best slo-mo boatside stuff in the business.
#2 – Saw this on the Beavers Baits page....
There's been a LOT of giant fish caught on their baits over the past several years. Anything that tops the already impressive list is probably one of the biggest 'skies caught this year....
#3 – Gotta hand it to Paul Momany for snappin' one of our favorite sunset shots with the triple-tailed Medussa blowing in the wind:
#4 – Matthew Christensen sent us this beautiful two-toner after reading last week's newsletter featurin' a whole bunch of them. That's a clean fish, dude!
BTW, if you missed last week's newsletter, you missed some awesome info from Luke Ronnestrand on how he's catchin' muskies right now (click here to read)
---
QUICK HITTERS:
– Muskies Inc. adds a chapter in Maine (link)
– Al's Musky Challenge raises around $100k for non-profits (link)
– Clear water musky fishin' w/ Todays Angler (video)
– Kayak musky fishin' instructional w/ Jay Siemens (video)
– Pete Rich on northern WI on the Back Lash Pod (video)
– Short-term stocking survival study in Iowa (link)
– Torch River, MI spring regulation proposal (link)
---
---
THIS WEEK'S

 MONSTER MUSKIES:
If you're not doing date night like Cody and Kylie Luzaich, you're doing it wrong! This is what 57 inches of killin' it looks like! Congrats you two 💪
Musky Insider co-owner Josh Borovsky received a nice "welcome back" to the Metro with this 49.75-inch nighttime snacker.
Those 49.75 inchers are a rare breed, because they always seem to grow another 1/4 inch on the bump board.... in some boats anyway 😉
Here's another rare 49.75-inch specimen, this one from Green Bay guide Tyler Herman, who has the best kicks on the Bay!
Huge congrats to Kyler Breunig on hooking and landing this beauty fishin' out of a kayak – super impressive!
Wanna be featured in Musky Insider? Send in your recent trophy musky photos by replying to this email. You might just see your pic in next week's newsletter. 🤙
---
---
Want to see more from Musky Insider? Make sure to follow us on Facebook and Instagram for bonus content throughout the week!
Send all business inquiries to josh@muskyinsider.com
---