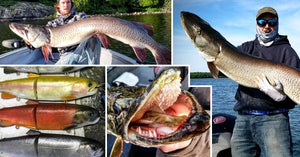 Aggressive Rubber Mods – Giant Fish Jumping – Learning Fish Behavior
Be the FIRST to see Musky Insider every week by signing up for the email version of this newsletter. It's 100% free and we will never sell your email address! Click here to sign up and never miss another issue.
---
---
Who does it better?
Last week, we shared three really cool musky shots and asked which one was your favorite. The voting was pretty darn close, but the "Underwater Hoist" from Aiden Wielinga ended up taking the cake:
Buckle up, because it's time for round #2 👍
Which of these high-flyin' finned acrobats is your favorite – reply to this email and let us know!
#1 – Team Musky
We've got a couple nice 'skies doing the aquatic high jump – first up, a beautiful slow-mo shot from Todays Angler:
And here's another stellar leap from the Fish'n Canada crew:
#2 Team Tarpon
You can't ignore Team Tarpon in a leaping competition, especially when they are soaring over your bay boat (via Thorne Bros):
.... or when they're creating PURE CHAOS at boatside (via Capt. Dave Nelson):
And last up, we've got an underdog in the jumpin' category:
#3 – Team Sturgeon
You'd do best not to underestimate this crew.... Just look at this crazy powerful airborne head shake 👀 #oofda  (via Great River Fishing Adventures)
... and how bout this one from British Columbia:
We love 'em all, but don't forget to let us know YOUR favorite! 👌
---
Herbie's Rubber Mods
At the last PMTT tourney on the Eagle River Chain, the winners, Dan & Mike Wojtusik, mentioned one of their go-to baits was the Lake X B52.
Sounds like Steve "Herbie" Herbeck has been playing around with it, too.
Here's what the bait is supposed to look like:
And here's what was leftover after Herbie finished his onslaught of modifications:
His explanation/summary of the changes:
"I split the tail, trimmed the side fins into legs and left a boot at the end for a little wiggle. I also trimmed the nose down to 35 degrees and bent the eye down a bit so weeds don't collect as much under the eye. I changed the front hook to a weedless (contact Muntz Angling, he makes a good one) and shrink-wrapped the leader eye/connection.
"I like to rip it just like a creature lure through cabbage and along fringe weed edges on those tough, high pressure days. It's saved the day for me several times already."
Cool stuff – thanks to Herbie for his willingness to share!
---
Some Bauerly Thoughts
Just got done listening to Phil Bauerly on the Back Lash Podcast.
They talked a ton about fishin' in June, but also covered a number of topics that are relevant all season long. Here's a few highlights:
They hit hard on electronics, including some interesting behavior Phil has observed watchin' muskies on Livescope:
"The early season open water muskies are looking around with their eyes and when they see baitfish coming, they're sinking down and looking up at it. I think they want to feed upwards, and they'll come up quite a ways. It seems to me that they want to sink down initially and when something comes between them and the surface, it's toast. It has been fun to see that unfold live."
Which elicited this response from Brad Hoppe:
"I notice often on my Side Imaging when I'm trolling in open water.... You'll drive over a musky and you'll literally see it's tail jetting off, just trying to get away from the boat. But guess what, when you're running boards and you have baits on both sides of the boat, the muskies are running right into a school of crankbaits."
And here's s'more stuff Phil noticed playin' with Livescope:
"One other thing that was pretty eye-opening was how many fish were following our baits and then peeled off 20 or 25 feet from the boat, right around the point where you would start to see them with your eyes. It can be more frustrating than helpful sometimes.
"I've never been a big camper, I don't beat fish over the head if I can help it. If we see one on Livescope or Side Imaging, we'll make 10-12 casts to it and if it doesn't happen, we'll leave that fish alone."
This last tidbit is Leech-specific, but it's honestly true on any lake that gets a decent amount of fishing pressure:
"Don't rule anything out. Leech Lake literally has muskies in every section of the lake. Just pick an area and start casting or trolling. Lots of people get some intel before they come to the lake and they want to fish the same 10 or 12 prime spots. That's fine, there's probably fish there. But if you go a few hundred yards down the shoreline or find a rock pile that's just a couple feet deeper and doesn't have any marker buoys (making it stick out like a sore thumb), it can make all the difference."
It was a wide-ranging discussion for sure.... heck, they even got on the topic of row-trolling for a little bit there. You can click here to listen to the full interview.
Btw, Phil Bauerly is going to be one of the guides/instructors at the MN Musky School at Agency Bay Lodge in August. 🔥 #CantWait
---
Musky Mashup
Mashup time – Here's some cool/interesting stuff we dug up this week....
#1 – Lovin' this sweet subsurface shot, plus the great caption from Brian Fay:
"SHE IS WAITING FOR YOU!"
#2 – Pretty sure these are designed for bass fishin'.... but how crazy realistic are these swimbaits from Clayton Sly?? #impressive
Here's a few more of his bigger 12.5 inch baits:
#3 – Special thanks to Taylor Hamel for sending the kind words after taking a couple of our virtual musky classes this spring.
The response was great when we launched the initial volley of classes this spring and we will 100% be doing more of them in the future. Btw, the recordings are available for purchase on-demand right now on our website. The topics include:
#4 – Not only are the pike much, much bigger across the pond, but they are also a lot uglier! 😉 Look'it this one from Dick van Hattem in the Netherlands.
---
QUICK HITTERS:
– River musky fishing action w/ In-Fisherman (video)
– Sharpening your hook with a dog grooming tool 🤔 (video)
– Fresh new Thorne Bros hats (link)
– WI Musky Fishing w/ Pete Maina & Josh Teigen (video)
– Northwoods musky fishing w/ Todays Angler (video)
– Name a big musky statue in Boulder Junction, WI (link)
---
---
THIS WEEK'S

 MONSTER MUSKIES:
Herbie sent us this excellent photo from Eagle Lake in Ontario.
Even though he can't cross the border (yet), he's still keepin' in touch with the crew up at AML, including his old apprentices, like Treven Ouellet who caught this beautiful 55.5 inch Canadian monster!
Check out the head on this beast! Congrats to Ryan Krebs on boating this incredible double-nickel fishin' with MN guide Steve Scepaniak. 💪
Congrats to Amanda Monge on landing this 54 inch bronze bruiser trollin' a cisco colored Bucher Depth Raider 8 feet below the surface. She was fishin' with her husband Josh when she boated this fish of lifetime – huge congrats!
The best things in life come in pairs – especially when they've got fins, big teeth and some crazy patterns across their backs.
Killer double-up from Ian Jones on Lake St. Clair. Lovin' that tiger, too! 🔥
Wanna be featured on Musky Insider? Send in your recent trophy musky photos by replying to this email. You might just see your pic in next week's newsletter. 🤙
---
---
Want to see more from Musky Insider? Make sure to follow us on Facebook and Instagram for bonus content throughout the week!
Send all business inquiries to josh@muskyinsider.com
---