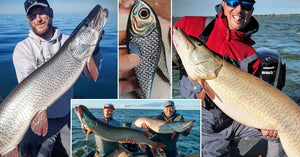 Double-up with 50-inchers – New Tech is Bad for Fishing? – Championship Recap
Be the FIRST to see Musky Insider every week by signing up for the email version of this newsletter. It's 100% free and we will never sell your email address! Click here to sign up and never miss another issue.
---
---
PMTT Champs
Huge congrats to father-son duo Chris & Peter Blicharz on taking down 39 hardcore tourney teams this past weekend at the PMTT Championship on the Chippewa Flowage.
They won some big fancy trophies 🏆 and a brand new Ranger boat! #ChaChing
Based on the results, it looks like the 'skies were a little tight-lipped.
It only took three fish for 46.75, 43.25 and 37.5 inches to beat the field over three days.... including this big slab of Chippewa Gold:
They were targeting shallow "wind-blown weed/rocks & weed/wood combo spots" that were holding baitfish, casting a "handcrafted blade bait" tight to shore.
Also sounds like Peter mighta been hoggin' the $$ bait all weekend.... 😉
Congrats guys!
Also gotta give a shoutout to Bob Bauer & Gary Vilcek on taking 2nd place and boating the BIG fish of the tourney with this 51.25 incher that was ALLLL belly:
---
Double Trouble!
It's not crazy uncommon to see double-ups, especially for the Great Lakes trollin' guys, but it's pretty dang rare to see two 50+ inchers in the boat at one time!
Big props to Doug Wegner and his clients (David Pasula and Roger McClintock) for boating these two beauties (53.25 and 50 inches) doing the Green Bay trollin' deal:
Both of these plus-sized leviathans crushed perch colored Rapala Super Shads, which are a staple on the Bay, matching the tasty perch that school up like crazy all over the massive weed flats.
The Super Shad is still kind of a sleeper option on pressured waters where smaller presentations can out-fish bigger baits some days.... 🤫
I also love that Dougie caught some of the action on camera 👌 Click here to check out the footage.
---
New Tech = Not Good?
Was listening to this episode of the Angling Uploaded podcast when Pete Maina and the host started talkin' new fishin' tech and how it's impacted the sport:
Which brings up the question: How much is too much?
Don't get me wrong, we're not boycotting the new technology, but it's evident that anglers are getting better and better at quickly finding 'skies, thanks to detailed mapping, Side Imaging, live-viewing sonar, etc.
As huge as mapping & Side Imaging has been over the past decade, the live-sonar deal might be the biggest one yet.... and it's still relatively new to the scene.
Tech is making things "easier", but time on the water is still hugely critical.
Here's one of Pete's quotes from the interview:
"When you've learned bodies of water like Leech, Mille Lacs and St. Clair through trial-and-error before all the stuff came out, with many many hours of learning those structures and the hotter spots with certain winds....At least that information, so far, is not out in some kind of electronic form. That's still a little knowledge that the machines can't tell ya!"
Finding them has traditionally been an enormous hurdle in the catchin' muskies equation. More and better tech = more folks are gonna find them (more pressure).
Which means dialing in your presentation and optimizing your approach on the water is more important now than it's ever been.
Something to think about!
---
This Week's Mashup
Mashup time!
#1 – Lots of fish catchin' action at the George Wahl Memorial tourney last weekend. Props to Austin Gates on winning the adult side with two Tonka tanks, including this 50.5 incher:
Also lovin' that 8-year-old Finley Boomer caught the longest fish (52.5") of the entire tournament, crushing the "Junior" division. 💪
Random.... Am I the only who thinks the two dudes with the sunglasses look like brothers?? 😂
#2 – Last week, we talked about some potential causes of the two-toned patterns we sometimes see on muskies and pike.
Here's a relevant quote from Dr. John Casselman on the subject:
"Given that the light colour pattern is appearing in the anterior, I am wondering if it's related to some trauma associated with hooking in these angled fish."
With that in mind, take a peak at this incidental pike that was sent to us by Logan Kasola – notice the hooking scar on the same side as the facial discoloration 🤔
#3 – How sweet is this freeze-frame from B&N Tackle, starin' down one of their Slasher crankbaits?? 🔥
#4 – Kinda diggin the holo paint job on this little glider from Maciej Dukacz  👀
---
QUICK HITTERS:
– RIP Kevin Moore, Wisconsin guide (link)
– Mike Gate and John Garrett win Nestor Falls Musky Cup (link)
– Musky Fishing Eagle Lake w/ Angling Anarchy (video)
– Full Moon musky fishing w/ Todays Angler (video)
– Northern WI weed edge fishing w/ Burnin' Eights (video)
– Musky Shootout at Agency Bay Lodge this weekend (link)
– Dive-and-Risin' Ontario 'skies w/ Gord Pyzer (link)
– New sonar overlay for Livescope users (video)
– MHTV app hit 10,000 downloads (link)
---
---
THIS WEEK'S

 MONSTER MUSKIES:
Props to Kevin Jach on bustin' his PB with this super old 54-inch metro monster! He was fishin' with guide Josh Borovsky, castin' a Swimmin' Dawg on a Thorne Bros Predator rod when this old battle axe decided to chomp!
The big gals are startin' to put on that fall feed bag, pumpin' up those #girth numbers! This massive musky from @omnioutdoors measured out at 54 x 25. 😍
Congrats to Tyler Lancaster on boating this super impressive 47-inch tiger musky!
It only feels right to wrap this newsletter up with another nice double-up.
This one's from Apex Angling out on LSC:
Wanna be featured in Musky Insider? Send in your recent trophy musky photos by replying to this email. You might just see your pic in next week's newsletter. 🤙
---
---
Want to see more from Musky Insider? Make sure to follow us on Facebook and Instagram for bonus content throughout the week!
Send all business inquiries to josh@muskyinsider.com
---