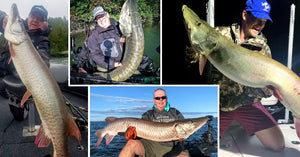 MN Records Broken – Herbie & Doug Wegner Tips – Swimbait Stuff
Be the FIRST to see Musky Insider every week by signing up for the email version of this newsletter. It's 100% free and we will never sell your email address! Click here to sign up and never miss another issue.
---
---
Musky Swimbait Tips
Raise your hand if you love chunkin' swimbaits ✋
If you're new to fishin' them or need advice on choosing the right bait for your favorite lake, Doug Wegner's latest video is worth a watch:
We'll share a few tidbits here for those of you who can't watch video right now.... 😂
Why Doug likes swimbaits:
"The cool thing about swimbaits is they're so versatile – you can fish them over weeds, over rocks, over open water, shallow or deep. There's no wrong way to fish them – if they're in the water, they're fishin' for you."
Doug's favorite swimbaits:
"Personally, if you asked which one I prefer, I really like the Swimmin' Dawgs. That's what I've had the best luck on. I think they look the most realistic. They're really soft and subtle. I prefer subtle swimbaits vs. aggressive ones.
"When you're fishing dirty water or windy conditions, hard thumping swimbaits with more of a presence can be a good thing.
"Swimbaits don't make any noise, so muskies need to visually see them with their eyes or feel them on their lateral line. In situations with low visibility, try baits like the Shadzilla or the Posseidon with more of a thumping tail-kick."
Btw, Thorne Bros has some slick custom colors in the Posseidon 👀
For size, Doug recommends pickin' something that's going to size-up well with whatever the 'skies are eating, whether it's shad, jumbo perch or big ciscoes.
He also recommends checkin' out the Shallow Swimmin' Dawg if you're lookin' for something with a slower drop speed vs. the originals that have a skinnier build.
---
Minnesota C&R Records
We've already talked about why we think catch-and-release records are awesome, and they make a world of sense long-term.... especially for muskies.
2021 has been a good year for big gals hitting the net. There were a couple C&R record fish caught in Minnesota this summer by a pair of outta-staters:
Big congrats to Todd Kirby from Hudson, WI on boating this beautiful 57.25 inch record-tying musky on Lake Vermilion.
Also, props to 15-year-old Brecken Kobylecky from Geneva, IL on bustin' the pike record with this 46.25 inch gator 🐊 from Basswood Lake.
Obviously, there have been bigger muskies and pike caught in the state, but we wanted to highlight these bruisers in the newsletter, because we'd love C&R to become the new standard.
Many hardcore musky-heads wouldn't kill a musky no matter what – even for a state record – so the "official" record isn't totally official either.... 🤷‍♂️
---
Herbie Interview
If there's such a thing as can't-miss content in the musky world, it's anything with Steve "Herbie" Herbeck's name on it....
I just finished listening to his latest interview on the Back Lash Podcast and thought I'd drop a few of the highlights here:
First things first, many of you probably know he's been dealing with cancer the past couple years, but good news: His last scan shows that he's officially in remission!
So dang happy to hear that!
Herbie also shared some great tips, as we've come to expect. Here's some goodies on musky location in fall:
"I love September, especially up here in Canada. Most of weeds start dying, leaving the broad leaf cabbage that sucks fish in like crazy. It also concentrates a major portion of the fish on very predictable, easy-to-read rock spots. I love fishing shallow rocks that break off into deep water.
"When fish are up on rocks, they are looking and following baits around. When they're in the weeds, they are doing more ambushing. When you get into mid-September (60-62 degrees) and later, rocks become a very dominant pattern."
Folks always want to know how to catch fish during the fall turnover. Here's how Herbie handles it:
"The reason why I love fishing Eagle Lake and the northern WI area so much this time of year is because you have a wide variety of lakes available to you. This allows you to stay either ahead or behind turnover, which is very, very important.
"You can stay ahead of turnover by fishing deeper, clearer lakes this time of year. There's a period of time right before turnover that fishing is incredible on those types of lakes. Once the big lakes are starting to turn over, the shallow lakes are done.
"River systems are awesome in fall because they don't really turn over because of the flowing water. That's something you can always fall back on when you get into the fall turnover period."
You might remember a few weeks back when Luke Ronnestrand shared his favorite color for this early fall period....
Well, turns out he's on the same wavelength as Steve on that topic:
"I don't think you can beat a black bait when you get into September with lower sun angles and darker water colors. On your bucktails, you can run a number of different blade combinations, but the black body is my first choice. Same with topwater and rubber baits. I know it's old school, but black really sticks out when the conditions setup like they do in September."
Per usual, there's WAY too much good stuff to fit here in the newsletter, so make sure to check out the full interview for all the deets.
Btw, if you're looking to smash some muskies this fall, you'll definitely wanna check out the class we did with Herbie. It's jam-packed with 4+ hours of fall musky fishin' goodness, including some ultra-in-depth info on location and presentation.
---
This Week's Mashup:
Here's some cool stuff we dug up on the interwebz this week:
#1 – Let's kick things off with a sweet shot from Pistol Pete Maina:
#2 – And how crazy is this through-the-net upside down airborne snap from the Musky Mayhem crew?? 😮
#3 – It's always cool seeing photos taken from alternative angles, and these are two of our favorites – which do you prefer?
Btw, the left photo is from @allinclusiveanglr and the right is from Josée Carrière.
#4 – We already had one big pike sneak into this newsletter, so what's the harm in highlighting one more?? #slipperyslope 😂
How absurd is this giant Euro pike from @k.b.fishing in the Netherlands:
---
QUICK HITTERS:
– Musky fishing in northern WI w/ Todays Angler (video)
– Marathon Man fundraising event happening this weekend (link)
– "Alarming muskie decline in the St. Lawrence River" (link)
– How to make a musky glide bait (video)
– Chasin' muskies on topwaters w/ Kanal Gratis (video)
---
---
THIS WEEK'S

 MONSTER MUSKIES:
This big 53.25-inch Green Bay bruiser smoked Tom Farrell's Detonator bucktail while he was on a guide trip with Bret Alexander. Huge congrats dude and thanks for sending the photo!
Brad Nelson took advantage of a RED HOT bite the last week of August, putting three over 52 inches in the bag, including this low-light shovel-head.
Jaren Parchem busted his new PB musky fishin' in northern WI with this bronze beauty! Bonus points for the pooch hiding in the background 🐕
How gorgeous is this BIG, clean Ontario musky from Derek Hart?? Congrats man!
Wanna be featured in Musky Insider? Send in your recent trophy musky photos by replying to this email. You might just see your pic in next week's newsletter. 🤙
---
---
Want to see more from Musky Insider? Make sure to follow us on Facebook and Instagram for bonus content throughout the week!
Send all business inquiries to josh@muskyinsider.com
---