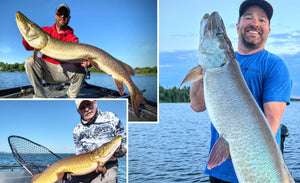 Sonar War is Escalating MORE – Eagle Eats a Musky – Sick Drone Musky Catch
Be the FIRST to see Musky Insider every week by signing up for the email version of this newsletter. It's 100% free and we will never sell your email address! Click here to sign up and never miss another issue.
---
---
Sonar Wars Pt. 3
Looks like we need to talk about live sonar again.... for the third week in a row.
Last week, it was Humminbird's new TargetLock. The week before, it was the big PMTT tourney in Wisconsin.
This week, it's Garmin's new $3,000 Livescope XR transducer – here's their intro video:
The "XR" stands for "Extended Range".
It's claiming a FIVE HUNDRED foot range in freshwater (350' in salt). Those are some insane specs....
It's pricey, but you know there will be plenty of folks willing to fork out the $$ to maximize their musky scopin' game....
Will be interesting to see how it all plays out, but regardless, this is the way things are moving now – for better or worse!
---
Drone 'Skie
We don't see many musky strikes/catches on a drone, so had to give John Vogeler some props here in the newsletter.
Check out this SWEET birds-eye-view of a hyped-up musky just a few moments before hitting the net:
Cool thing about the drone shot is you get to see the entire scene.
If you watch the full video, you can see John hoppin' rubber over a weed flat and the strike happens right at the bottom of the screen as the bait starts to fall.
Awesome sequence 👍
---
Only Musky-Heads Understand....
Really enjoyed this thread in the MFT&T group....
Jason Smith asked:
Finish this sentence!
Only a Musky Fisherman will _______ .
Here's a few of our favorite responses:
Ryan: "Plan vacation days around moon phases."
Only musky anglers and werwolves.... 😂
Jeff: "Spend 10's of thousands of dollars, 10's of thousands of hours on a picture of a fish and let it go."
Jake: "Think it's fun being on a lake in a boat on a windy snowy day in November."
Brad: "Shovel snow out of the boat."
Gotta add.... spending an hour shoveling a boat ramp and 100% ignoring your own driveway. 😅
Jon: "Abuse himself 12 hours straight casting lures the size of small animals at the hopes of seeing one fish."
We're a weird breed, that's for sure!
---
This Week's Mashup:
Mashup time!
#1 – Logan Kasola sent us these photos of his "Lure Cave" with this message:
"Most of my friends and family think I'm nuts lol, so I thought I would share with a platform where I know everyone else would understand."
Wait.... so you're telling me most people don't have 50+ Bull Dawgs hangin' on pegboard in their house?? 😉 Love it dude!
#2 – Some pretty wild footage from Jim Anger of an eagle "harvesting" a musky on Deer Lake in Minnesota:
#3 – Not gonna lie, this is the best part.... Great clip from Justin Peterson:
#4 – Cool seeing these old school pics from back in the day. This one's from Leech Lake in 1982 – here's the newspaper caption:
"Ted Burger, Minneapolis, recently caught this 40-13 muskie in Leech Lake. It is the largest muskie landed in Minnesota so far this fishing season. The fish measured 53-1/2 inches long and a 23-inch girth. He used a Burger Bros. Bucktail for bait."
The Burger Brothers were a big deal back in the 70's, 80's, etc.
Different times, different standards. We're glad the musky community has fully embraced C&R over the past few decades.
---
QUICK HITTERS:
– Minnesota musky fishing w/ Doug Wegner (video)
– Understanding prop blades & pitches w/ Next Bite (video)
– Topwater musky fishing w/ Todays Angler (video)
– Late light muskies w/ Steve Heiting (video)
– New moon 6 fish day w/ Cast & Conquer (video)
– "Tobacco Cabbage Musky" w/ Joe Bucher (video)
---
---
THIS WEEK'S

 MONSTER MUSKIES:
Absolutely gorgeous 53-inch Lake of the Woods beast from Jon Beardsley:
Check out the head on this ridiculously impressive Minnetonka 'skie Matt Johnson caught targetin' bass with a frog. #PinkDayFish
Look at the beautiful golden colors on this nice musky sent in by Larry Ramsell 🔥
Wanna be featured in Musky Insider? Send in your recent trophy musky photos by replying to this email. You might just see your pic in next week's newsletter. 🤙
---
---
Want to see more from Musky Insider? Make sure to follow us on Facebook and Instagram for bonus content throughout the week!
Send all business inquiries to josh@muskyinsider.com
---