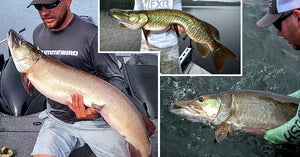 Top Mid-Summer Baits – Musky Comedy – Tigers that Aren't Tigers?
Be the FIRST to see Musky Insider every week by signing up for the email version of this newsletter. It's 100% free and we will never sell your email address! Click here to sign up and never miss another issue.
---
---
Mid-Summer Picks
It feels like it's been mid-summer for months, but there's still some good musky chasin' to be done where/when the conditions allow.
This week, we reached out to MN guide Ryan McMahon and asked him which baits he'll have on his deck over the coming weeks. Enjoy!
"With the backside of summer in our sights we are entering one of the most exciting times to musky fish. Water temps will be dropping, fish will be pushing up shallower on spots, and the topwater/bucktail action should be amazing!
"Here are 6 baits I won't leave the dock without in the late summer period."
Lake-X Cannonball Jr.
"The Cannonball Jr. continues to impress me with its efficiency. A lot of people are throwing these baits nowadays, but they produce time-and-time-again for me morning, noon and night."
Musky Mayhem Moon JR4
"The Musky Mayhem Moon JR4's have a lot going on and are among a group of slow-moving baits that I have been finding success with. I like to use the JR4's in low light periods, bulging them just under the surface."
Hirsch Ghosttail 7 - 700
"The Ghosttails are a staple in my boat because they fish fast. Speed is a big trigger this time of year and the #7 Indiana blades are a great look being burned, and as always the Hirsch ties always look amazing!"
Baby Beaver Quad B
"The Quad B is a unique bucktail that has some amazing backside action with the signature beaver tail. This bait will truly shine on pressured waters."
MuskyFrenzy Apache Stagger 8/9
"The Stagger 8/9 flat out catches fish in my boat! They have a great stagger grind that can be burned quickly. The Frenzy integrated clevis ensures a good start-up of the blades every cast."
Big Mama Dirty B
"The Big Mama Dirty B has been a big fish magnet in my boat for a handful of years now. They move slowly in the water, but make a ton of commotion."
Thanks for sharing, Ryan!
P.S. In case you missed it.... make sure to check out the Metro Musky Mastery class (featuring Ryan McMahon & Josh Borovsky) for sale on our website. It's jam-packed with tons of info, including lake-specific deets you don't want to miss if you fish the Twin Cities area for 'skies. You can click here for more info.
---
The Rut
If you're lookin' for a quick dose of musky-themed humor, you'll love this short video from Mike Fisher AKA "Rut Daniels":
The one-liners are excellent, like this one:
"The fish of 10,000 casts... not if you're doing it right!"
Amen, brother! 😂
Btw, here's another musky fishin' Rut vid if you're lookin' for more.
---
Headlines of the Day
Just for a fun, here's a few headlines from this past week that caught our eye:
#1 – Let's start with an oddly fishy ball-sports headline:
The article obviously has nothing to do with muskellunge or large plastic Bull Dawgs, but the irony of the headline is perfect! 😂
#2 – Next, we've got a brand new nickname for our favorite species....
#3 – I'm less intrigued by the headline here.... What's more fascinating is the guy in the photo somehow holding the baitcaster backwards. 🤔
#4 – Mille Lacs is such a fascinating lake.... 
The DNR shuts down walleye fishing on the lake for a few weeks despite most anglers reporting excellent catch-rates (plenty of fish in the lake).
And apparently musky anglers are "satisfied with the status quo" on the lake? Any amount of research would show that most musky anglers are highly dissatisfied with the stocking/management.
Something smells fishy.... and it's not the suckers that died in your shed last fall 😉
---
Tigers vs. Purebreds
Came across a somewhat controversial article from Gord Pyzer this week, centered around this beautiful 'skie: 
It's controversial because most folks believe it's a tiger, while Gordo and Dr. John Casselman pointedly disagree. 
We're not going to pick sides, but thought this might be a good opportunity to highlight a cool study from Casselman: "Identification of muskellunge, northern pike, and their hybrids"
Lots of cool insights and examples to examine. 
Also, some creepy old photos of Esox skulls, which is a nice touch!
As far as Gord's musky goes.... you can take whatever evidence is available and make up your own mind! 👍
---
QUICK HITTERS:
– "100 inches" Night Muskies Back-to-Back w/ Musky Mayhem (video)
– Topwater Flowage Fishing w/ Todays Angler (video)
– ICAST happenin' this week (link)
– Musky catchin' & tips w/ Smith's Fishing (video)
– Moon phases & confidence baits w/ 54 or Bust (video)
---
---
THIS WEEK'S

 MONSTER MUSKIES:
Big congrats to Duane Wedler Jr. on poppin' this big 52.5 inch monster 'skie. Impressive specimen! We're also diggin' the lucky Thorne Bros hat 👍
Marty Vlietstra fooled this mammoth musky, patiently pumpin' a Bull Dawg close enough to get chomped! #GotEm
How sweet is this shot from Tyler Guckenberger on Georgian Bay – that's a portly porknanny with some big shoulders! 🐷
Congrats to Chad on bustin' his new PB fishin' with guide Carter Natale!
Cool fish with the lack of markings and the brownish color that almost has a tint of green to it. #beauty
Wanna be featured on Musky Insider? Send in your recent trophy musky photos by replying to this email. You might just see your pic in next week's newsletter. 🤙
---
---
Want to see more from Musky Insider? Make sure to follow us on Facebook and Instagram for bonus content throughout the week!
Send all business inquiries to josh@muskyinsider.com
---