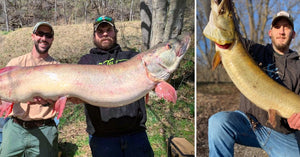 TWO New State Musky Records – Livescope Setup – Dialed Garage Bait Storage
Be the FIRST to see Musky Insider every week by signing up for the email version of this newsletter. It's 100% free and we will never sell your email address! Click here to sign up and never miss another issue.
---
---
New WV Record Musky!
Pretty sure THIS is what John Denver had in mind when he wrote that song about a "Mountain Mama" over in West Virginia:
That's Luke King with the new WV record Esox masquinongy with official measurements of 55.0625 inches long and 51.00 pounds obese.... #sheesh
Here's some great quotes from Luke in an Outdoor Life writeup:
"I got to a spot where a long, deep eddy of water came off a fast-water stretch and started casting a Hell Hound, hard-plastic glide bait.
"I made a cast almost across the river to a shallow shelf on the far bank. I started a retrieve, twitching the plug several times. Then I just felt some weight, not a real hard strike. So I set the hook, and I could feel a fish shaking its head.
"She stayed deep, kind of bull-dogging, not like a catfish, but in the mid-depths. The water temperature was a cool 44 degrees, and I'm sure that had much to do with her fight."
SUPER impressive fish – also cool that they had the opportunity to release her back into the river after the measurement process:
Great to see she at least gets the chance to swim another day.
An interesting tidbit from a Field & Stream's writeup:
"Weighed on certified scales, his fish went a whopping 51 pounds, more than 11 pounds heavier than the previous record (from Chase Gibson) and 16 pounds heavier than the one before it. That's 29 percent heavier than Gibson's record haul of last year and 47 percent heavier than Wilfong's fish in 2017."
Seems like we keep seeing bigger and bigger muskies outta WV in recent years....
---
Another Record Bites the Dust....
They don't grow 'em quite as big in Maryland, but that doesn't take anything away from this new record-breakin' musky:
Kyle Mullenix popped this big 49-inch, 33-pounder soakin' suckers on the from the shores of the upper Potomac River.
Sounds like it BARELY edged out the previous record by a half of a pound:
"The catch surpassed the previous Maryland state record held also by a Washington County resident, Tessa Cosens, whose catch tipped the scales at 32.5 pounds."
Crazy to see TWO records go down in one newsletter 🔥
Wanted to make it three, but figured you guys wouldn't be interested in a record 2+ pound "minnow" caught in Montana 😂
---
Livescope Setup
We're highlighting this video from Kevin Cochran for two reasons:
#1 – He shares some good info on how he rigs up his Livescope hardware.
#2 – We'd love to see more folks post videos like this online.
Are there a million videos on YouTube with dudes breakin' down how Livescope works and how they mount it on their boats?? Yes.
But musky folks operate on a totally different spectrum – the way we fish and utilize our electronics is totally different.... furthermore, it seems like hardcore musky-heads like to do things their own unique way.
No one does "custom" like a musky fisherman. #truth
We'll do our best to keep digging up musky goodies for you as spring approaches – buckle up and stay tuned!
---
This Week's Mashup:
Mashup time!
#1 – REALLY diggin' this garage shot from Josh Rabska #dialed
#2 – The Muskie Odyssey is coming up next weekend! Cool event if you're north of the border and want to rub shoulders with many of the best musky anglers in Canada – plus they raise a bunch of money for the fisheries up there.
#3 – Cool idea from Ryan Read, setting up a timelapse at the Muskie Max show in Pennsylvania earlier this month. Looks like some good traffic 👍
#4 – I'm thinkin' we're going to talk about some figure eightin' tips next week.... but in the meantime, here's a sweet clip from @esoxchasers poppin' one in the tweener zone before the boatside maneuver:
---
QUICK HITTERS:
– Thorne Bros Spring Sale coming up, April 8-10 (link)
– LOTW musky fishing w/ Doug Wegner (video)
– "One & Done" w/ Keyes Outdoors (video)
– LOTW musky fishing w/ Sportsman's Journal (video)
– Deep structure musky tips w/ 54 or Bust (video)
– Topwater Leech Lake 'skies w/ In-Depth Outdoors (video)
---
---
THIS WEEK'S

 MONSTER MUSKIES:
Big props to Johnny Yucha on boating this chunky southern 'skie on a bucktail!
Absolutely gorgeous barred beauty from Brandon Lewandowski 🔥
Wide angle lens?? Yes. But still an awesome Cave Run musky from Johnny Ramsey. Congrats dude!
Wanna be featured in Musky Insider? Send in your recent trophy musky photos by replying to this email. You might just see your pic in next week's newsletter. 🤙
---
---
Want to see more from Musky Insider? Make sure to follow us on Facebook and Instagram for bonus content throughout the week!
Send all business inquiries to josh@muskyinsider.com
---